Microsoft Inspire 2021: Unveiling more opportunity for partners
Today we're kicking off Microsoft Inspire 2021, a virtual moment for our partner ecosystem to come together, celebrate and reflect on an exceptional year of unparalleled disruption, accelerated innovation and digital transformation. We've seen how businesses that bet on the Microsoft cloud can empower customers to build more transformative, agile and resilient organizations. As we…
Today we're kicking off Microsoft Inspire 2021, a virtual moment for our partner ecosystem to come together, celebrate and reflect on an exceptional year of unparalleled disruption, accelerated innovation and digital transformation.
We've seen how businesses that bet on the Microsoft cloud can empower customers to build more transformative, agile and resilient organizations. As we embark on a once-in-a-generation opportunity to use our platforms and technology to help businesses and organizations transform, our ecosystem of partners remains firmly planted at the center.
Microsoft is committed to equipping partners around the world with the most innovative technologies, tools and solutions in the industry. We continually strive to be the best partner for our partners' growth and profitability, offering unique opportunities to leverage the Microsoft cloud, create differentiated solutions on our platforms and go to market together at scale.
Last week we recognized the incredible work partners have done this year with our 2021 Microsoft Partner of the Year Awards. Today, we are pleased to announce several new product and program updates that represent new opportunities for our partners to build on Microsoft cloud for the new world of work, while leveraging a foundation of trust and security.
Microsoft cloud
It all starts with Microsoft cloud, the differentiated value it provides to customers and partners to support every organization's multi-cloud, multi-edge needs. Microsoft cloud empowers everyone to innovate. It provides fast time to value, purposeful integration and an open platform from cloud to edge that helps partners build predictive power with holistic data analytics, an AI platform and security across the entire experience.
Industry clouds: progress toward sustainability goals and advancements toward a decarbonized grid
Microsoft industry clouds are new extensions of our existing cloud services, pulling together industry-specific capabilities across the Microsoft solution areas. They are designed to be modular and extensible and to create new opportunities for partners to build new revenue streams. Microsoft Cloud for Sustainability, a new cloud offering, will help our customers, across all industries, meet their carbon reduction and sustainability goals. Available in preview later this year, it enables organizations to record, report and reduce their emissions on a path to net zero. Building on trusted Microsoft technologies, we will look to our partner ecosystem to build specialized industry-specific applications, data sources and emissions data connectors so customers can more easily invest in and achieve their sustainability goals. Read the announcement to find out more.
Microsoft is also announcing its own 100/100/0 commitment — one that acknowledges the limits on our ability to control global grid infrastructure but maximizes our ability to influence it. By 2030 Microsoft will have 100 percent of our electricity consumption, 100 percent of the time, matched by zero carbon energy purchases. This complements our existing commitments to execute power purchase agreements equivalent to 100 percent of our energy needs by 2025. As of today, Microsoft has signed new purchase agreements for approximately 5.8 gigawatts of renewable energy across 10 countries around the globe and brings our operating and contracted renewable energy projects to 7.8 gigawatts globally.
Taking Windows to the cloud across devices
Windows 365, a cloud service, introduces a new way to experience Windows 10 or Windows 11 (when it's available later this calendar year) for businesses of all sizes. Windows 365 takes the operating system to the Microsoft cloud, streaming the full Windows experience — apps, data and settings — to any device.
Secure by design and built with the principles of Zero Trust, Windows 365 secures and stores information in the cloud, not on the device, providing a secure, productive experience for workers from interns and contractors to software developers and industrial designers. Windows 365 also creates a new hybrid personal computing category called Cloud PC, which uses both the power of the cloud and the capabilities of the device to provide a full, personalized Windows experience. It allows users to stream their applications, tools, data and settings from the cloud to any device, with the ability to log in and pick up where they left off even when switching devices. For IT, Windows 365 also simplifies deployment, updates and management, and unlike other solutions, doesn't require any virtualization experience.
The new Cloud PC category provides more opportunities for all types of partners who deploy Windows-based solutions:
Systems integrators (SIs) and managed service providers (MSPs) can help organizations get the most out of their entire Windows estate.
Independent software vendors (ISVs) can continue to build Windows applications and deliver them in the cloud to support their customers' ongoing digital transformation journeys.
Device and silicon partners gain an opportunity to integrate Windows 365 into their broad portfolio of services alongside their devices' robust features and secure hardware.
Check out the press release and Microsoft 365 blog for more information.
Securely access Dynamics 365 data within Teams
Microsoft Teams has demonstrated how valuable it can be for organizations. After scaling to meet unprecedented demand, Teams has launched a steady stream of new features to bring people together virtually and empower collaboration from anywhere.
All Microsoft Teams customers will now receive access to Dynamics 365 data in Teams at no extra cost. This integration will remove barriers to productivity for customers, as well as silos between collaboration and business process. The no-cost data access also provides flexibility for organizations to determine when and how they purchase Dynamics 365.
With Microsoft's emphasis on trust and security, permissions and access rules can be configured to ensure only appropriate users have access to data. Read the announcement for additional details.
Increase scale through program and go-to-market updates
Commercial marketplace
We've seen a 70% year-over-year increase in transactable applications in Microsoft's commercial marketplace. It's the most comprehensive commercial marketplace in the industry, with over 30,000 applications and services and 4 million shoppers engaging every month. As software needs continue to rise, partners are looking to simplify the deployment process and are increasingly relying on a commercial marketplace to manage their software portfolio. We've chosen to reduce fees for transactable offers to 3% — down significantly from an industry standard of 20% — for every transactable application published in the commercial marketplace, including our digital storefronts, Azure Marketplace and Microsoft AppSource. The reduction means higher margins for partners who publish transactable offers in our marketplaces and simplifies the fee structure. Both of these benefits reflect our commitment to do everything we can to make our platform partner-focused. Learn more about the fee changes.
Starting this fall, ISVs with transactable commercial marketplace offers will be able to set one price for customers and another price for Microsoft Cloud Solution Provider (CSP) partners of their choice. This allows ISVs to provide margin to CSP partners, while CSP partners can also add a price markup when reselling to customers outside of the commercial marketplace. This new flexibility is intended to create stronger connections among partners and incentivize ISVs to share margin with resellers. The overall goal is to make it more profitable for Microsoft partners to engage and sell Microsoft commercial marketplace offers. Learn more about this opportunity.
New integrations in Microsoft Viva
There is incredible partner integration opportunity with Microsoft Viva, which brings together an integrated employee experience that combines communications, learning, well-being and knowledge directly within the flow of work. We have added new integrations with more than 20 partners — including Workday, Qualtrics and ServiceNow. These integrations will complement the ones we announced in February with SuccessFactors, Cornerstone OnDemand, Headspace and many more. Through these integrations, customers can seamlessly connect to the systems and tools their employees use every day right in the flow of Viva experiences.
We will continue to make it easy to integrate with, build on and extend applications into Viva. Our partners are already innovating, and we will be rolling out more open APIs later this calendar year. Read the announcement to learn more.
Deliver managed security services and identify growth opportunities
Microsoft 365 Lighthouse, now in public preview, and Project "Orland" for Microsoft 365, entering limited preview, will help drive partner growth and profitability by making it easier to deliver managed security services and identify new avenues for growth.
Microsoft 365 Lighthouse helps managed service providers secure devices, data and users for small- and medium-sized businesses that are using Microsoft 365 Business Premium. Project "Orland," meanwhile, is a new experience in Partner Center to help cloud solution provider (CSP) partners grow their cloud businesses by sharing Microsoft-powered insights about their customers to improve account management. CSP partners will get recommendations from their existing customer base such as customers with trial conversion potential, customers who may need follow-up engagements or customers ready for new workloads to deploy. Read more about Microsoft 365 Lighthouse and Project "Orland."
New build-with and go-to-market benefits for Microsoft 365
We've introduced new benefits for ISVs who want to build and market Modern Work apps for Microsoft Teams and Microsoft Viva. ISVs will receive access to Microsoft technology, curated training, one-on-one consultations and marketing resources to help them reach the 145 million people collaborating on Microsoft Teams daily. Learn more about these new benefits.
Simplifying the ISV Connect program
Inspire marks the second anniversary of the Business Applications ISV Connect program, which offers platforms, resources and support to help ISVs develop, publish and market their apps. We're pleased to announce simplification and enhancements to the program that bring new value to partners building applications.
These enhancements aim to help partners reduce app development time, go to market faster, differentiate their solutions and more efficiently grow their business in new markets in ways they could not have scaled otherwise. The ISV Connect program will introduce simplified go-to-market benefits, new technical benefits like ISV App License Management and Discounted Dev/Test/Demo Environments, and substantially reduced revenue sharing. We're also rolling out additional investments in Microsoft AppSource to improve app discoverability and search results. Learn about ISV Connect.
All of these announcements, and the many others we are sharing at Inspire this year, have been engineered with our partners' experiences, growth and profitability in mind and in the spirit of making Microsoft the best partner to work with for partners. I'm looking forward to seeing our partners virtually this year and look forward to seeing these announcements bear fruit in the year to come. Take a look at our 2021 Inspire Book of News, check out more highlights from our speakers on the virtual event site and enjoy the conference this year.
Tags: Cloud for Sustainability, Microsoft 365, Microsoft Inspire 2021, Windows 365
Facebook: Recognizing Global Accessibility Awareness Day
As an avid outdoor enthusiast and firefighter, Carly P. has always loved being active. After a life-changing injury paralyzed her from the waist down, she felt lost. Carly recaptured her passion for being outside and found a community of people like her through the nonprofit organization Catalyst Sports. Now, she uses Catalyst Sports' Facebook page…
As an avid outdoor enthusiast and firefighter, Carly P. has always loved being active. After a life-changing injury paralyzed her from the waist down, she felt lost. Carly recaptured her passion for being outside and found a community of people like her through the nonprofit organization Catalyst Sports. Now, she uses Catalyst Sports' Facebook page to spread awareness and share local recreational opportunities for people with physical disabilities.
In addition to providing community to people with disabilities, we're also working to make the digital world more accessible. 
We will demonstrate our latest accessibility features today at our annual Accessibility Summit. Join us at 10:00AM PT for this livestream on the Meta Accessibility Facebook Page. In addition to product demos and updates, we will host an interview with Molly Burke, a digital creator and blind advocate.
Through a video series on the Meta Accessibility Facebook Page, we're highlighting how people with disabilities connect and build communities through our technologies, much like Carly. We've created both the captioned and audio described versions of these stories.
Today, we're recapping advances we've made over the past year to make our technologies more inclusive. 
Meta Quest
Audio Accessibility

Audio balance: This option enables you to adjust the balance of the left and right audio channels for comfort, and to better match your ability to hear in each ear. 
Mono Audio enables you to hear the same audio from both the left and right speakers on your headset. 
You'll find both features under the Accessibility tab in your headset's Settings menu.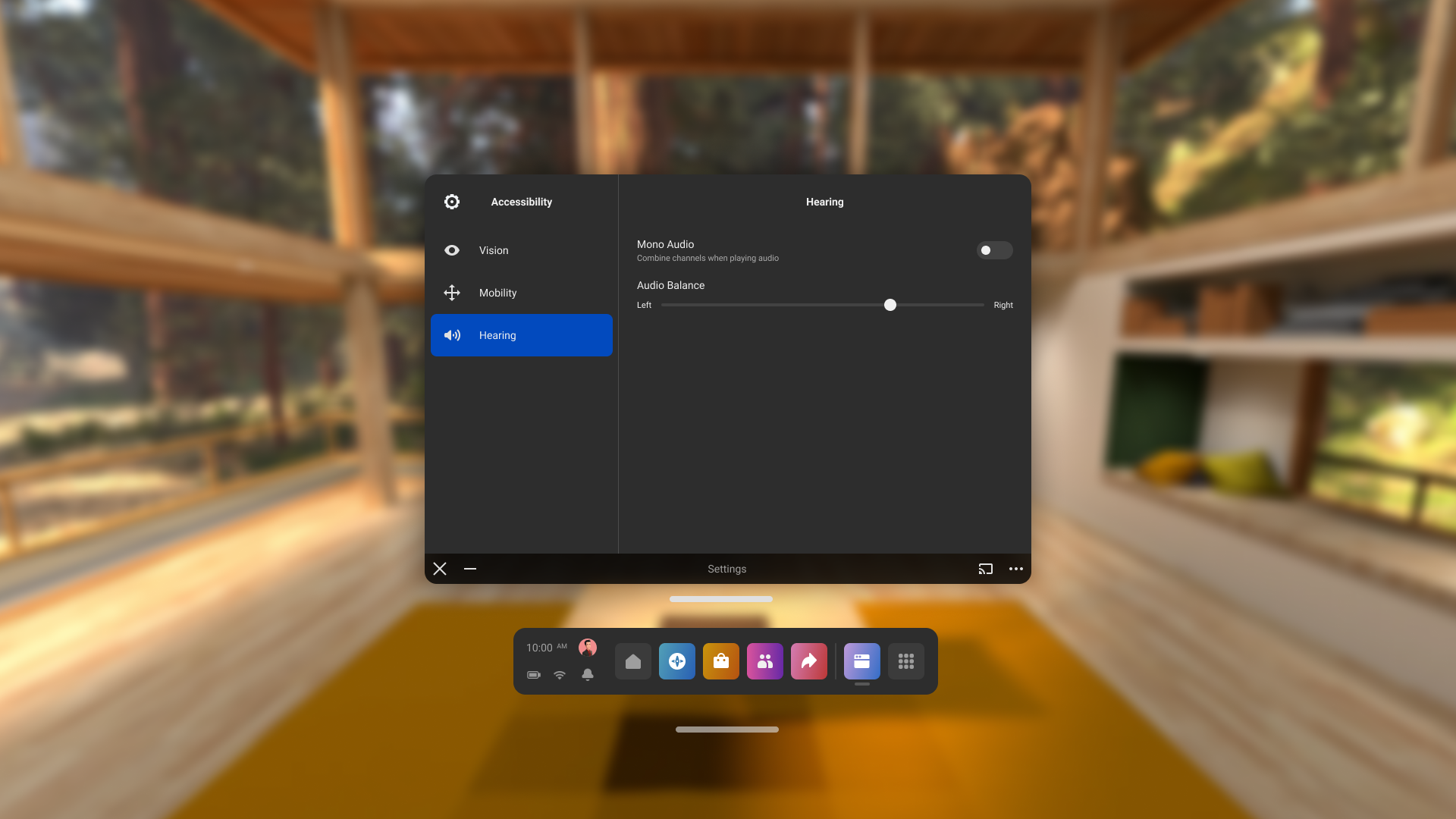 Adjust Height  

This feature allows you to experience VR from a "standing" vantage point even while reclining or seated. This can improve the VR experience for people who use wheelchairs, have limited mobility or are unable to use the Quest headset while standing. 
We first introduced this as an experimental feature (called Raise View) last June and have now made it permanent after receiving positive feedback from the disability community. 
You can find this feature in the Accessibility tab in Quest's Settings menu.
Portal
Video relay service (VRS)

In December, we began supporting video relay service (VRS) applications on Portal  for people who use American Sign Language (ASL), through a collaboration with ZP Better Together.
Through the ZP apps on Portal and human interpreters, people who use American Sign Language can now easily communicate in both English and Spanish. 
Portal's unique AI-powered camera always keeps you in frame and in focus, even when you're moving, so your face and hands can always be seen.

Captions

We've also added customizable closed captions for streamed content on TV and Touch, as well as added support for live captions into integrated work productivity apps Zoom and Workplace Live.
Instagram
Auto-generated captions for Feed videos

In March, we introduced auto-generated captions for Feed videos on iOS and Android in English, Spanish, Portuguese, French, Arabic, Vietnamese, Italian, German, Turkish, Russian, Thai, Tagalog, Urdu, Malay, Hindi and Japanese to start. 
More importantly, captions are automatically turned on by default when a creator uploads a video to their Feed. Over 140 million videos were created with auto-generated captions in the last 30 days.
Creators retain the ability to turn captions off when they choose and viewers can turn captions on or off using on-screen controls.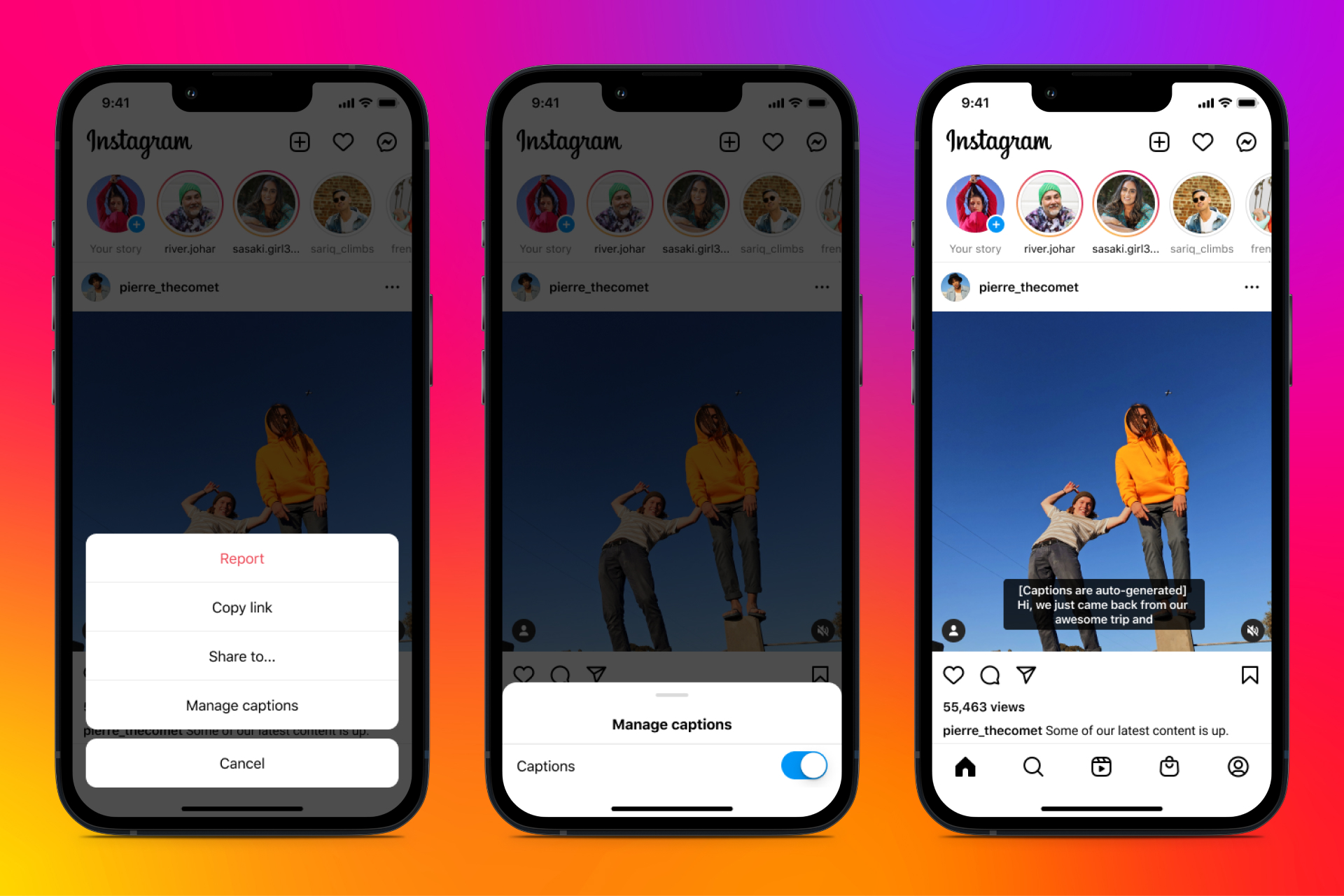 Stickers on Facebook and Messenger
We added alt text descriptions to the more than 10,000 stickers available on Facebook and Messenger, making it possible for people who are blind and visually impaired to understand and use them. 
Avatars
Earlier this year, we introduced the ability to have your same avatar across Facebook, Instagram, Messenger and Quest. 
There are also new avatar options, including over-the-ear hearing aids and cochlear implants in addition to more face shapes, skin tones, expressions, and stickers. 
Wheelchairs are now available as stickers on Facebook, Instagram and Messenger so your avatar can better represent who you are or who you want to be.
Open Source
Lexical is a JavaScript framework built to improve text editing on Facebook, WhatsApp, Messenger and Workplace, with accessibility as a priority. 
In April, Lexical was released into open source to allow the rest of the world to benefit from these improvements. 
With this new framework, people can express their ideas in text via dictation, and readers can experience character-by-character navigation — a feature previously unavailable in similar editors.
Reality Labs Research
We're exploring how improvements in audio quality can enable more realistic presence and perceptual superpowers in augmented and virtual reality— technological advancements that can also help us hear better in noisy environments. 
Our team of hearing scientists is also exploring how to reencode sound and present it through closed captioning.
While this is still early research, we are excited to learn more about how emerging audio technologies can improve the lives of people with hearing loss.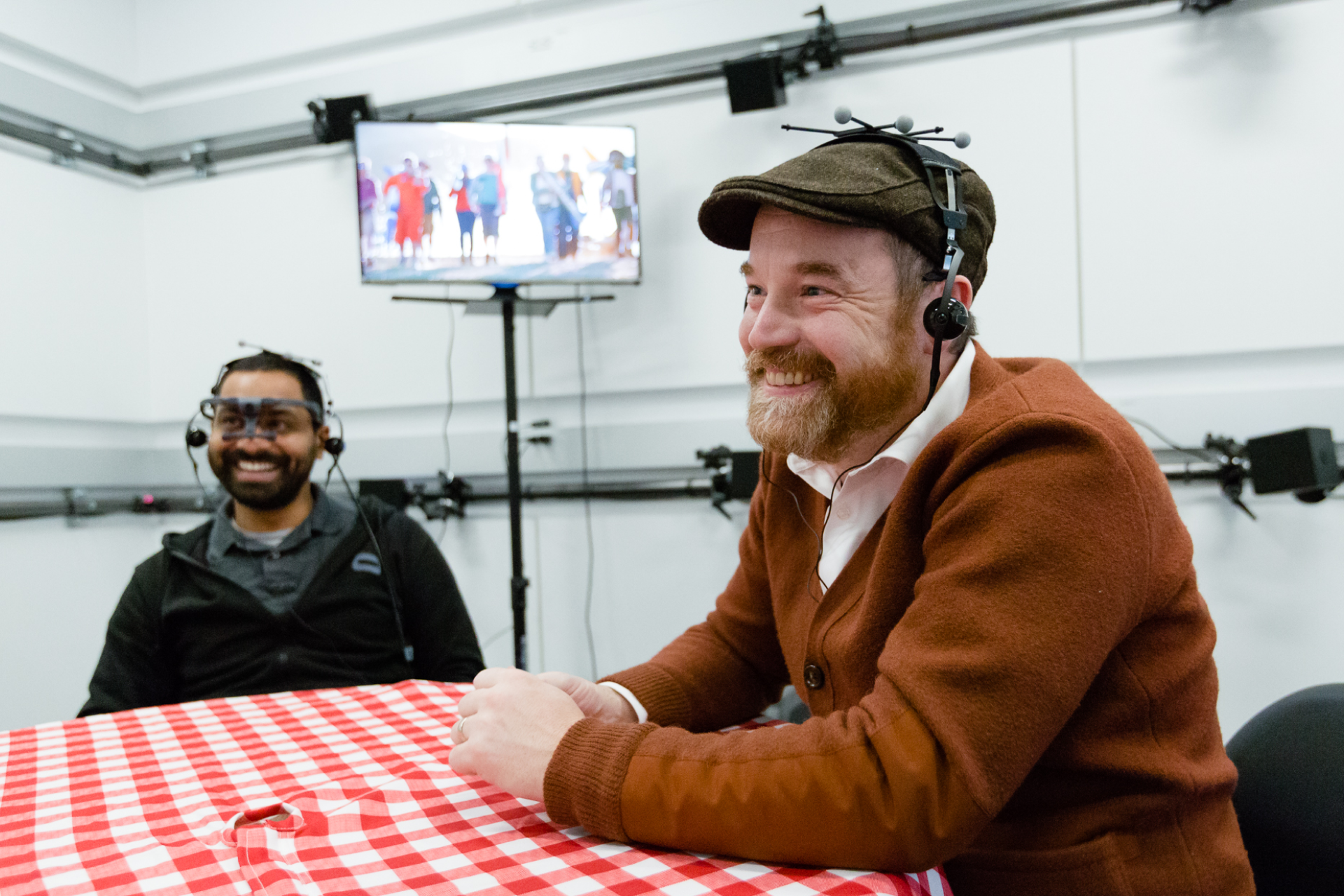 Facebook: Announcing New Products to Make Business Messaging Easier
The way people and businesses communicate is changing. One billion people message with a business each week on WhatsApp, Messenger and Instagram Direct — whether it's DMing brands, browsing product catalogs, asking for support, or interacting with stories. This consumer behavior is accelerating and it's changing how business gets done. Today at Conversations, our inaugural…
The way people and businesses communicate is changing. One billion people message with a business each week on WhatsApp, Messenger and Instagram Direct — whether it's DMing brands, browsing product catalogs, asking for support, or interacting with stories. This consumer behavior is accelerating and it's changing how business gets done. Today at Conversations, our inaugural business messaging event, we discussed how messaging is transforming interactions between people and businesses, and announced new products to make conversations easier.
Introducing Cloud-based API on the WhatsApp Business Platform
Today, Mark Zuckerberg announced we're opening up the new, cloud-based version of the WhatsApp Business Platform, hosted by Meta, to any business across the world. With this new API, we're offering free, secure cloud hosting services so businesses and developers can easily access our service within minutes, build directly on top of WhatsApp to customize their experience and increase their response time for their customers. So now, whether a business wants to work with one of our 100+ partners or access our service directly, it will be much faster to get up and running on WhatsApp.
When growing a business, you need smart, robust and easy-to-use conversation tools. For smaller businesses using the WhatsApp Business app, we're building tools so it's easier to handle an influx of chats as they grow their customer base. 
Launching Recurring Notifications on Messenger
Today we're announcing a new way for businesses to keep the conversation going with Recurring Notifications. As businesses acquire new customers and begin to scale operations, there's incredible opportunity to build loyalty and trust — and we believe this is where the value of messaging really shines. This new capability makes it easy to re-engage people right in the messaging thread and deliver tailored messaging at the best time for customers, whether to hear about special promotions, new product drops or tips and tricks.
You can choose the topics you'd like to let people opt-in to, how often customers can hear from you and shape your content, so your messages are always on-brand and relevant. Recurring notifications will also be available for businesses on Instagram this fall.
We also highlighted our click-to-message ads to help customers immediately start conversations with businesses, our CRM platform Kustomer and Meta Business Suite for higher volumes of messages across Facebook, Messenger and Instagram. Read more about our product investments in business messaging on our Meta for Developers blog.
Facebook: Introducing New Members of the Oversight Board
Today, Meta welcomes the newest members of the Oversight Board who have just been appointed — Paolo Carozza, Khaled Mansour, and Pamela San Martin. Per the Oversight Board Bylaws, we worked together with the board to identify and select these members over the last few months. Over the next few months we will continue to…
Today, Meta welcomes the newest members of the Oversight Board who have just been appointed — Paolo Carozza, Khaled Mansour, and Pamela San Martin.
Per the Oversight Board Bylaws, we worked together with the board to identify and select these members over the last few months. Over the next few months we will continue to support and work with the board to select additional members. The new members reflect a wide range of views and experiences, and will bring a variety of perspectives to the board's existing expertise.
The Oversight Board represents a unique model for social media governance. From its inception, we knew its impact would come not just from its decisions on individual cases, but also from broader recommendations on how we can improve our policies and processes. In the time since they began hearing cases and issuing decisions and recommendations, they've been playing a bigger role in setting precedent and direction for our content policies and how we enforce them.  We look forward to welcoming the new board members into this process.
We will update this Newsroom Post as additional members are appointed. We are grateful to all board members for lending their expertise to our content moderation efforts.