2021 release wave 2 plans for Dynamics 365 and Power Platform now available
On July 14, 2021, we published the 2021 release wave 2 plans for Microsoft Dynamics 365 and Microsoft Power Platform, a compilation of new capabilities that are planned to be released between October 2021 and March 2022. This second release wave of the year offers hundreds of new features and enhancements, demonstrating our continued investment to…
On July 14, 2021, we published the 2021 release wave 2 plans for Microsoft Dynamics 365 and Microsoft Power Platform, a compilation of new capabilities that are planned to be released between October 2021 and March 2022. This second release wave of the year offers hundreds of new features and enhancements, demonstrating our continued investment to power digital transformation for our customers and partners.
Highlights from Dynamics 365
Dynamics 365 Marketing is improving experiences and capabilities for creating moments-based and segment-based customer journeys that span all customer touchpoints taking personalization to the next level. Marketers will be able to create segments for leads and custom entities in the new segmentation builder experience using natural language to build segments and target audiences quickly and easily. Quickly generate email content using GPT-3 AI and then optimize with our streamlined AB testing tools.
Dynamics 365 Sales launches the general availability of Deal Manager, a new, modern workspace for managing your pipeline, as well as enhancements to the integration between Dynamics 365 Sales and Microsoft Teams, including more collaboration tools and calling capabilities. Seller productivity investments include LinkedIn integration enhancements for easy access to Sales Navigator, forecasting updates, and guided selling improvements with Sales Accelerator. Several new capabilities are also coming to the Dynamics 365 Sales mobile application, now available in the iOS and Android app stores.
Dynamics 365 Customer Service enhances knowledge authoring with AI-suggested keywords and brief descriptions for knowledge articles. The intelligent routing service uses a combination of AI models and rules to assign incoming service requests from all channels (cases, entities, chat, digital messages, and voice) to the best-suited agents. Additionally, we are investing in routing diagnostics for supervisors, machine learning-based rules for classification such as sentiment analysis and effort estimation, and improved historical analytics.
Dynamics 365 Field Service continues down the path of providing easy customer engagement: a new customer portal will incorporate existing capabilities such as technician locator and new general availability capabilities such as self-scheduling and appointment management to enhance service and customer communication. Additionally, a refreshed work order form will enhance user productivity.
Dynamics 365 Finance launches the general availability of Finance Insights to focus on data-driven insights empowering customers with out-of-the-box machine learning for their financial operations. To ensure that financial activities close on time, we are enabling our customers to increase productivity when it critically matters the most: we are bringing enhanced usability and performance around fixed assets, year-end close, and financial dimensions. We continue to enhance our globalization offering with additional localizations and the general availability of our Tax Calculation service.
Dynamics 365 Supply Chain Management invests in enabling a resilient supply chain with enhancements in key areas such as resource planning, manufacturing, and warehousing. We will enable businesses to optimize their usage of available material and capacity to avoid stockout situations and keep the business flowing. New manufacturing execution scenarios are included to allow integration between Dynamics 365 Supply Chain Management, common manufacturing execution (MES) solutions, and shop floor automation systems for our customers to be able to adopt and integrate new business models with ease.
Dynamics 365 Project Operations delivers functionally rich experiences to create and manage subcontracts with vendors for projects, as well as task scheduling enhancements.
Dynamics 365 Guides will be updated to further leverage the hand tracking capabilities available on HoloLens 2, making Dynamics 365 Guides an easier to use and more intuitive application. While users will still be able to operate a guide with hands-free interactions, core application workflows will be simpler and faster with a touch-enabled holographic interface.
Dynamics 365 Human Resources continues to enhance Benefits management capabilities by investing in a simplified setup and configuration user experience. We are continuing our journey to bring capabilities to employees in their flow of work and enhancing the current capability set as part of our Dynamics 365 Human Resources app for Microsoft Teams. Employees can submit, edit, and cancel their existing leave requests using the Teams app. We are also enhancing the manager's ability to view more details about their direct reports' leave balances and have better visibility of the team and company calendar.
Dynamics 365 Commerce prioritizes customer segmentation and targeting using site builder to target customer segments with specific page layouts and content as well as improved understanding for how end-users interact with pages across sites, including mouse-action recordings, heatmaps, and analytics by integrating with Microsoft Clarity.
Dynamics 365 Fraud Protection will have multiple new features that enhance Payment Service Providers (PSPs) ability to offer Fraud Protection as a value-added service to all their merchants. PSPs will be able to integrate Fraud Protection easily into their existing infrastructure to manage PSPs taxonomies that encompass many merchants and multiple hierarchies within each merchant entity.
Dynamics 365 Business Central delivers new capabilities designed to simplify and improve the way our partners administer tenants, and the way administrators manage licensing and permissions. Application enhancements expand the integration with Microsoft 365 and add country and regional expansions with over 10 new markets.
Dynamics 365 Customer Voice focuses this release wave on facilitating actionable insights for survey owners to act on feedback. Survey owners will be able to get feedback insights quickly and use Power Automate to define custom workflows to engage the right person at the right time.
Dynamics 365 Customer Insights audience insights capabilities enable every organization to unify and understand their B2C and B2B customer data to harness it for intelligent insights and actions. For this release wave, in the B2B area, in addition to churn predictions for individual customer records, audience insights will predict the likelihood of churn for accounts using the same straightforward guided experience. Data ingestion enhancements in Customer Insights include additional Power Query connectors and improvements to the data ingestion process. Engagement insights (preview) in Dynamics 365 Customer Insights enable individual and holistic interactive analytics over web, mobile, and connected products customer journey touchpoints. Engagement insights expand to multichannel analytics over data from other channels for richer customer analytics, downstream actions, and optimizations.
Highlights from Microsoft Power Platform
Power BI continues to invest in three key areas that drive a data culture: empower every individual with AI-infused insights, empower every team with BI woven into the fabric where teams work, and empower every organization to meet the most demanding enterprise needs. Power BI Pro continues to invest in our creator experiences with new report authoring tools. Consumer experiences continue to evolve, both in the Power BI service and the Power BI mobile applications. This includes improvements to Excel export from table and matrix visuals and easy creation from Microsoft Dataverse and Dynamics 365. Lastly, Power BI integration in Microsoft Teams continues to evolve, deepening the integration in channels, chats, and notifications within Teams. Power BI Premium continues to invest in the following areas: Auto-scale and pay-as-you-go pricing to scale beyond resource capacity without drops in performance. Interactive experiences over big data by making reports highly performant automatically on big data sources such as Azure Synapse Analytics.
Power Apps brings significant improvements for developers of all skill levels, improving the sophistication and usability of apps that can be created across the web and mobile devices. We are launching the unified, modern Power Apps designer to quickly build modern apps leveraging the best of both canvas and model in a single app. Developers can now take advantage of intelligent authoring, using AI in Power Apps Studio to generate code using natural language for rapid app development. Makers will also be able to configure apps for offline use using a reinvented maker experience. Power Apps portals is focused on enhancements in the areas of portals platform, new capabilities for pro-development, and increased developer productivity. Several new capabilities are being added with a specific focus on pro-development such as the general availability of portals support for Power Apps component framework as well as support for continuous integration and continuous deployment (CI/CD) using Power Apps command-line interface (CLI)—the first step toward a comprehensive Application Lifecycle Management (ALM) story for developers and ISVs.
Power Automate continues to invest in several areas including Cloud flows with templates for Microsoft Teams and further integrations enabling administrators to push solutions that contain flows across the teams in their organization. Document automation, an end-to-end solution for processing documents at scale for document data extraction, becomes generally available during this release wave. Power Automate Desktop brings more WinAutomation actions to Desktop flows as well as new RPA-enabled scenarios for more Dynamics 365 applications, and it will be possible to use Dataverse and over 475 API connectors directly from Desktop flows.
Power Virtual Agents brings improvements in the authoring experience with topic suggestions from bot sessions, Power Apps Portals integration, data loss prevention options, proactive bot update messaging in Microsoft Teams, and more. We're also building on our Power Automate integration with enhanced error handling and new topic trigger management to improve your bot's triggering capabilities.
AI Builder will focus on providing new functionalities centered around intelligent document processing experiences. New functionalities will include the ability to extract a broader set of content types in documents such as checkboxes, signatures, typed fields like date and currency, as well as support for more prebuilt models in the Document Automation solution (for example, receipts and invoices). Integration of AI Models will also be supported through the Power Apps formula bar.
For a complete list of new capabilities, please check out the Dynamics 365 and Microsoft Power Platform 2021 release wave 2 plans.
Early access period
Starting August 2, 2021, customers and partners will be able to validate the latest features in a non-production environment. These features include user experience enhancements that will be automatically enabled for users in production environments during October 2021. Take advantage of the early access period, try out the latest updates in a non-production environment, and get ready to roll out updates to your users with confidence. To see the early access features, check out the Dynamics 365 and Power Platform pages. For questions, please visit the Early Access FAQ page.
Learn more
We've done this work to help you—our partners, customers, and users—drive the digital transformation of your business on your terms. Get ready and learn more about the latest product updates and plans, and share your feedback in the community forum for Dynamics 365 or Power Platform.
Facebook: Our Largest Ever Climate Survey Can Inform Policies, Research and Campaigns Around the World
Today, Meta and researchers at Yale University are publishing the results of our biggest ever global survey about public views towards climate change. In March and April this year, a sample of more than 100,000 Facebook users from nearly 200 countries and territories were asked about their knowledge of, and attitudes and behavior towards, climate change…
Today, Meta and researchers at Yale University are publishing the results of our biggest ever global survey about public views towards climate change. In March and April this year, a sample of more than 100,000 Facebook users from nearly 200 countries and territories were asked about their knowledge of, and attitudes and behavior towards, climate change issues and what should be done to address them. The results paint a picture of deep concern around the world and the desire of a significant majority of people to see governments and others take meaningful action.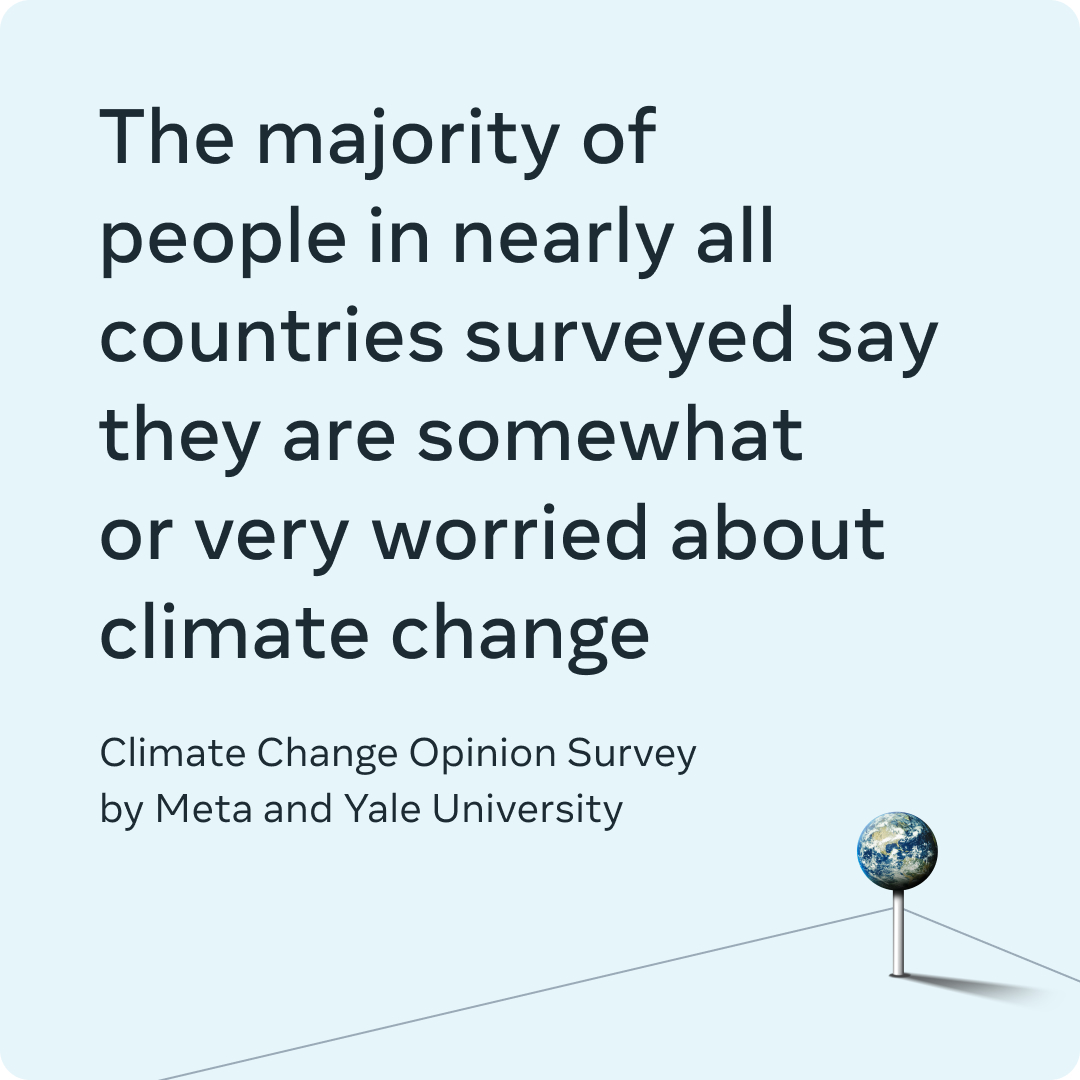 The survey is a collaboration between Meta and the Yale Program on Climate Change Communication, as part of Meta's Data for Good program. It is hoped its findings can be used to inform policy decisions and priorities for governments, especially in many countries where surveys of this sort have not taken place before. The findings should also be valuable for researchers around the world, as well as a resource to inform public information or awareness raising campaigns by activists and NGOs, and help journalists with nationally-relevant data. For example, the Social Progress Imperative is using data from this survey to develop a new Climate Perception Index, which will serve as a tool to better understand the societal implications of climate change and will provide insights for policy makers on where to focus most in order to deliver tangible societal outcomes to their citizens.
The survey found:
The majority of people in nearly all countries surveyed say they are somewhat or very worried about climate change, including more than 9 in 10 respondents in many countries in Central and South America. In almost every country, majorities saw climate change as a threat to their country or territory over the next two decades.
A majority in two-thirds of the countries and territories surveyed think climate change will harm future generations a great deal. 
Majorities in nearly all countries think climate change is caused at least partially by human activity. Europeans were most likely to correctly answer that climate change is caused by human activities, led by Spain (65%) and Sweden (61%).
In most countries, a majority say they don't hear about climate change at least once a week in their daily lives. Europeans are more likely to say they hear about climate change at least once a week compared to other regions.
Most people say their country should reduce pollution causing climate change, either on their own or if other countries also do so. However, people have different views on who is primarily responsible for reducing pollution — majorities in 43 countries said their government is responsible, 42 countries said individual people and 25 said businesses. 
People everywhere think climate change should be a high priority for their government. Majorities in most countries in North and South America say it should be a "very high" priority.
A majority in almost all areas surveyed think action to reduce climate change will either improve or have no negative impact on the economy.
People support using more renewable energy and less fossil fuels. About 9 in 10 people in Hungary, Portugal and Spain think their country should use somewhat or much more renewable energy.
The Data for Good program is an unprecedented collaboration between technology companies, the public sector, universities, nonprofits and others using privacy-protected datasets for social good, including disaster relief and recovery. Many of our humanitarian partners operate in some of the most challenging environments in the world. By sharing free tools that provide fast insights, Meta data has made decision-making on the ground easier, cheaper and more effective. In recent years, this collaboration has informed policies governing things like the delivery of vaccines and aid to Ukrainian refugees, and been utilized for environmental campaigns in the US, Germany, Belgium, Croatia and the UK.
Alongside the survey, Meta has also published its annual Sustainability Report, detailing the solid progress we're making in minimizing the environmental impact of our business, supply chain and wider community. This includes:
Setting an ambitious goal to be water positive by 2030, meaning we will restore more water than our global operations consume. In 2021, Meta helped restore more than 2.3 million cubic meters of water through investments in water restoration projects.  
Progress towards our goal of reaching net zero emissions across our value chain, and maintaining 100% renewable energy for our global operations.
Expanding our Climate Science Center to more than 150 countries.
Supporting key policies to advance sustainable policies and climate action, such as joining the European Climate Pact and participating in organizations advocating for clean energy policies in the United States.
Read the full climate opinion survey report and sustainability report.
Facebook: Uplifting Tribal Communities in India Through Digital Entrepreneurship
Inspired by the rich culture and talent represented by the tribal and indigenous communities of India, we are extending our collaboration with the Ministry of Tribal Affairs to launch the second phase of the Going Online As Leaders (GOAL) program. GOAL 2.0 will look to digitally upskill, connect and empower 10 lakh youth and women…
Inspired by the rich culture and talent represented by the tribal and indigenous communities of India, we are extending our collaboration with the Ministry of Tribal Affairs to launch the second phase of the Going Online As Leaders (GOAL) program. GOAL 2.0 will look to digitally upskill, connect and empower 10 lakh youth and women from the tribal communities of the country and will act as a bridge for the socially marginalized youth with a vast canvas of opportunities using technology that they otherwise may not have access to.
Through this program, the identified GOAL participants will have access to Meta Business Coach — a WhatsApp based learning bot — that will give the participants an opportunity to learn skills on how to build and grow their business using Facebook, Instagram and WhatsApp. To empower the participants to play an active role in the digital economy, the program will also include Facebook Live sessions in nine languages by master trainers on topics like Anti Scamming education, staying safe online, how to combat misinformation and being a good digital citizen. 
​Sh. Arjun Munda, Hon'ble Minister of Tribal Affairs launched the second phase of the GOAL program.
Speaking on the occasion, Sh. Munda said: 
"Honorable Prime Minister, Shri Narendra Modi has always spoken about bridging the digital divide. Digitally empowering India's tribal communities would contribute significantly to the socio-economic development of the country and an important step towards creating a flourishing community of tribal leaders. The first phase of GOAL has seen changing the lives of tribal youth through the digital mentorship program. In the second phase, we will reach out to 10 lakh women and youth entrepreneurs and will also create a platform for more than 50,000 self-help groups and 10 lakh families associated with TRIFED to take their products global." 
Sharing his views on the importance of digital empowerment for the tribal communities, Ajit Mohan, Vice President & Managing Director, Facebook India (Meta) said: 
"India's massive digital transformation can be complete when even the most vulnerable communities of our society are digitally empowered. We are deeply inspired by the stories of some of the Tribal leaders who benefitted from the first phase of GOAL that we kicked off in 2020. We recognize the wide canvas of opportunity that gets unlocked when these tribal communities have access to digital tools and technologies, and that is why we are excited to launch the next phase of this program. In collaboration with the Ministry of Tribal Affairs, GOAL 2.0 will upskill and empower 10 lakh women and youth across tribal communities to harness the full potential of digital platforms and tools."
Tribal population constitutes about 8.6% of the total population in India. Digitally empowering India's tribal communities could contribute significantly to the socioeconomic development of the country and an important step towards creating a flourishing community of tribal leaders.  The first phase of GOAL included inspiring, connecting and upskilling tribal youth from across the country. As a result of GOAL, 75% of the participants from the tribal community admitted to being able to better articulate their thoughts to words and saw an improvement in their interpersonal skills. About 69% were able to leverage digital commerce for increased reach and about 63% said that it helped them understand how to set up their business. 
The program is aimed at empowering youth and women from tribal and indigenous communities to harness the full potential of digital platforms and enhancing their leadership skills for driving community development. Along with digital inclusion, the program aims to actively contribute to the economy by continuing to support the most vulnerable communities in tribal districts with a focus on tribal youth and on businesses led by tribal women in rural areas. 
Facebook: Introducing Features to Quickly Find and Connect with Facebook Groups
New Ways to Organize Your Groups On Facebook, we're testing a new sidebar that helps you easily find your favorite groups more quickly. It will list your groups and the latest activity within them, like new posts or chats you haven't yet seen. You can also pin your favorite groups so they show up first,…
New Ways to Organize Your Groups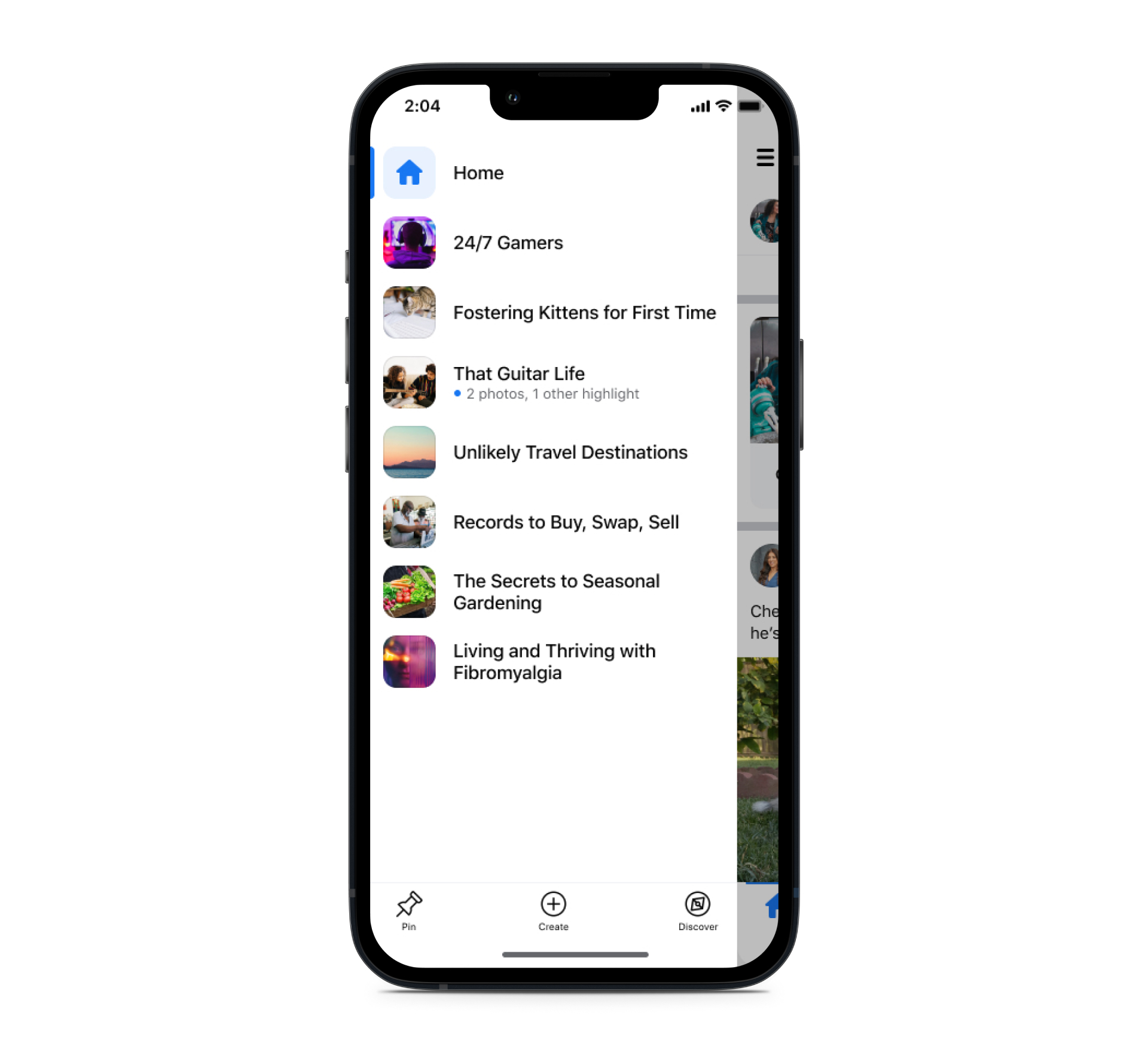 On Facebook, we're testing a new sidebar that helps you easily find your favorite groups more quickly. It will list your groups and the latest activity within them, like new posts or chats you haven't yet seen. You can also pin your favorite groups so they show up first, discover new groups or even create your own. For example, if you want quick access to the latest recipes in your cooking group, you can now pin it to the top, find related groups and be inspired to start your own.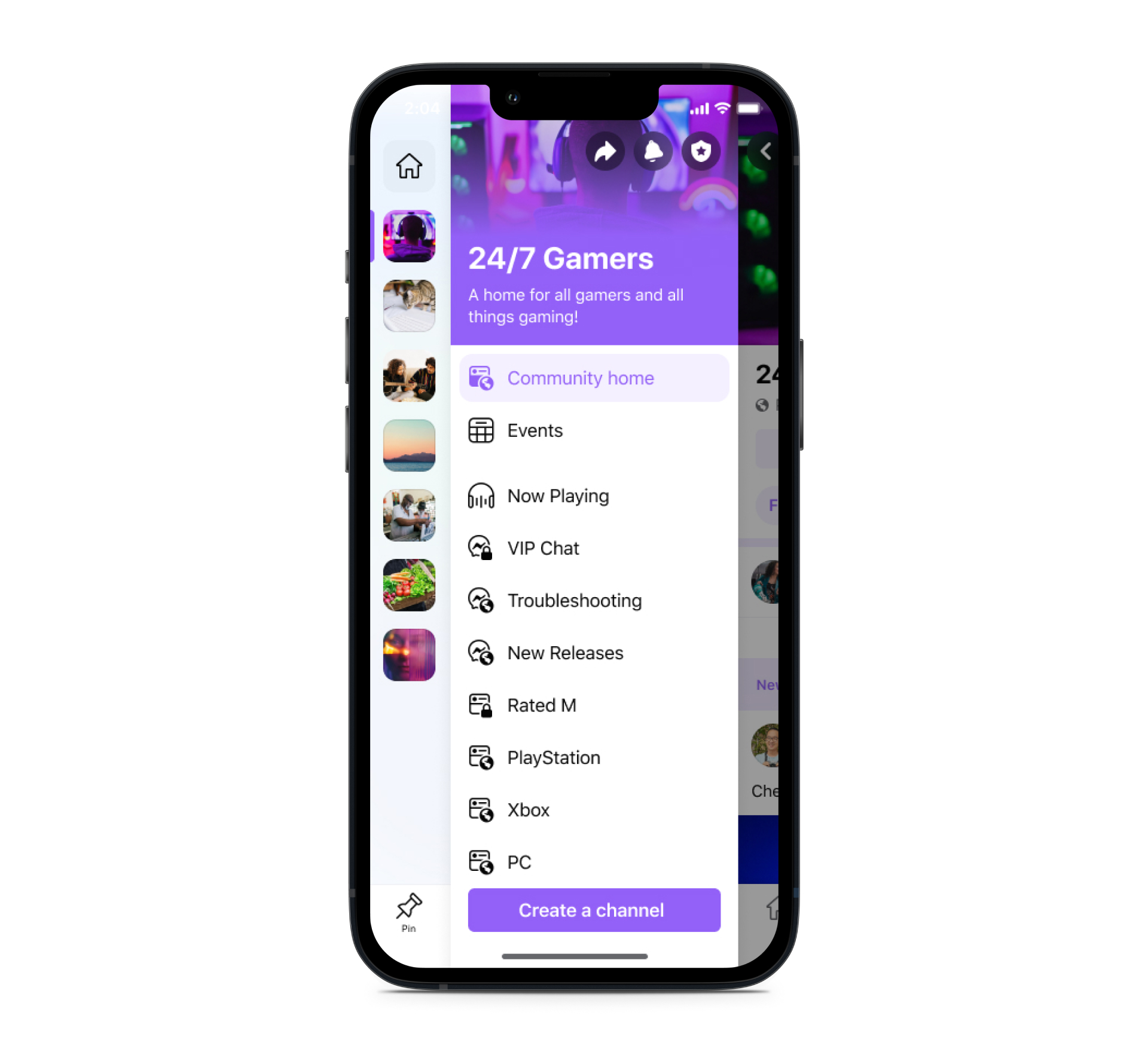 We're improving how each group is organized, so you can jump right into what's happening. Within your group, you'll see a new menu that includes things like events, shops and a variety of channels to make it easier to connect with others around the topics you care about. So, once you're in your cooking group, you'll be able to stay up to date with the group's upcoming events, buy their latest swag and seamlessly join conversations. 
Connect in Smaller Spaces
Admins can begin to create channels to connect with their groups in smaller, more casual settings where they can have deeper discussions on common interests or organize their communities around topics in different formats: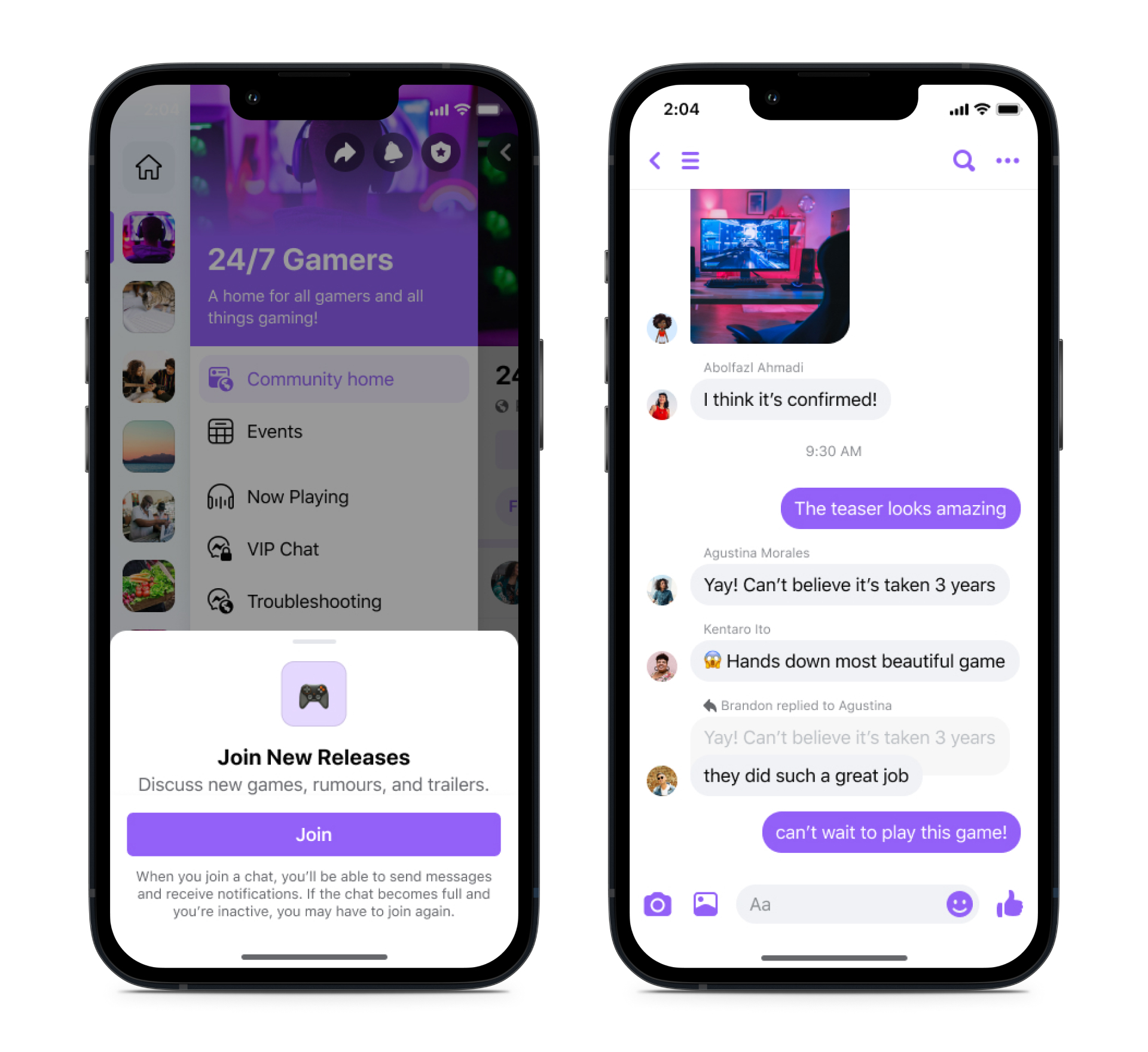 Community chat channels: a place for people to message, collaborate and form deeper relationships around topics in a more real-time way across both Facebook Groups and Messenger. So when you're in your new BBQ lovers group and need real-time feedback while attempting your first brisket, an admin can create a chat for that.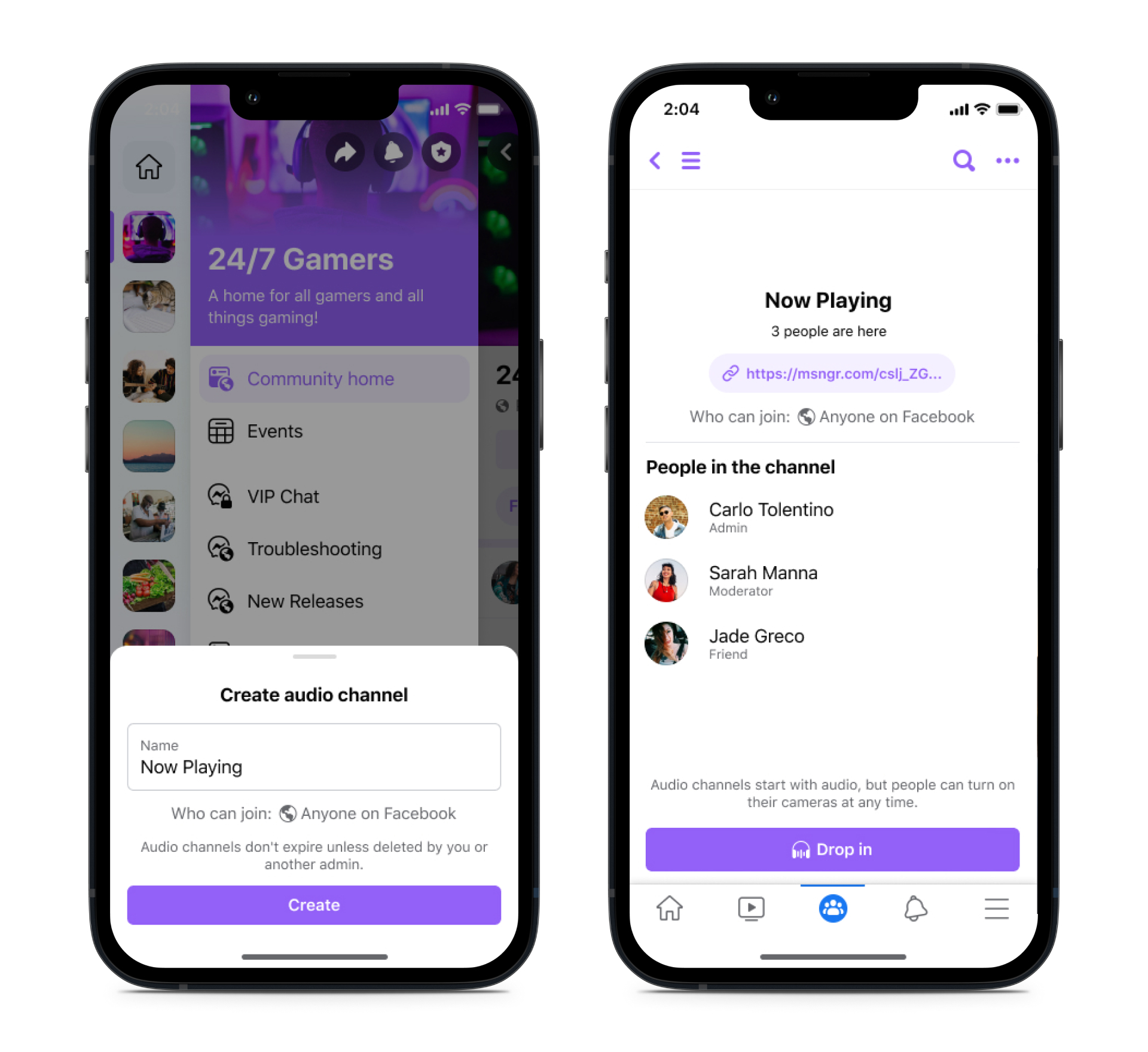 Community audio channels: a feature where admins and members can casually jump in and out of audio conversations in real time. If you're looking to hear best practices from other grill masters in your BBQ lovers group, there could be an audio channel created that's available within your Facebook Group and on Messenger.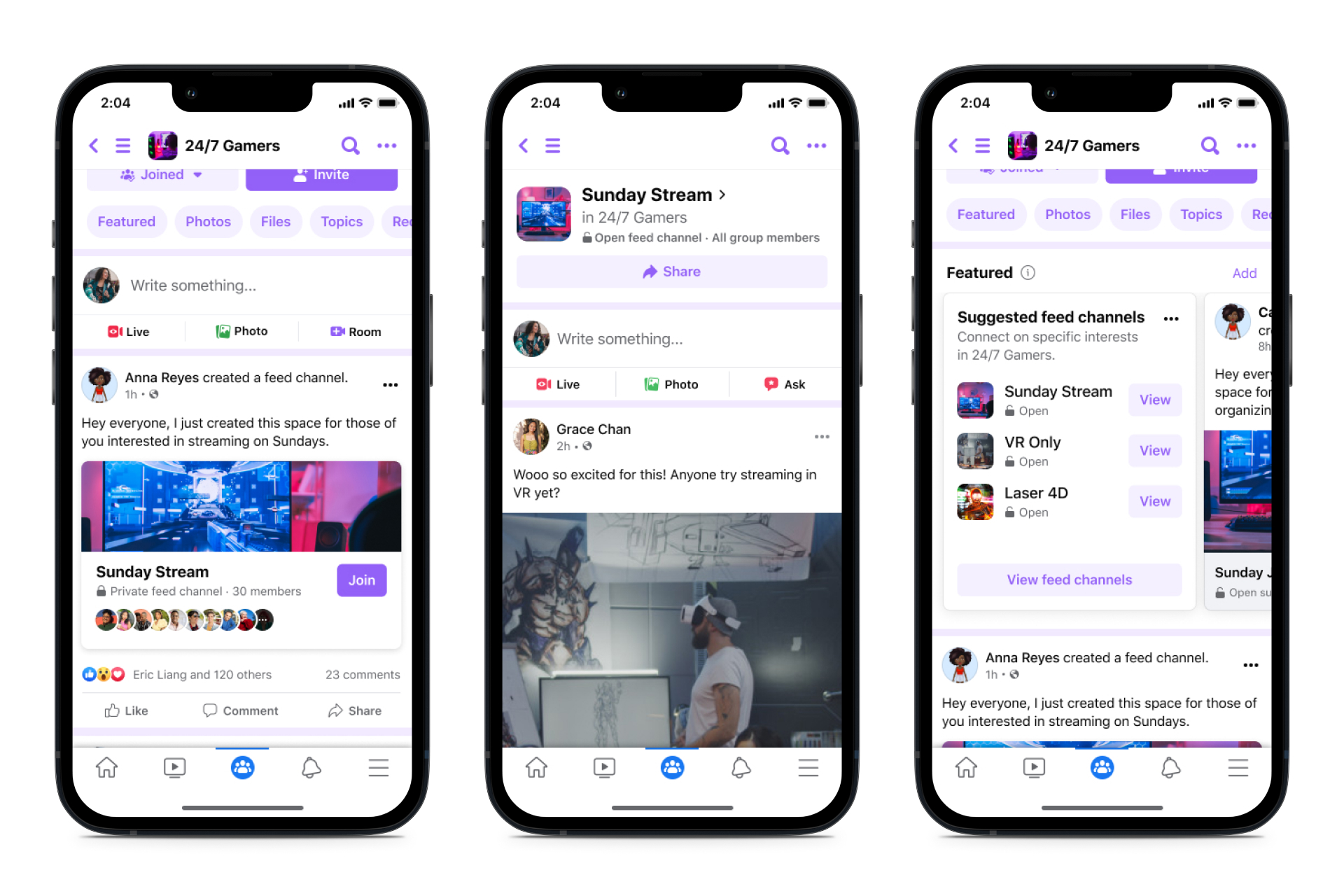 Community feed channels: a way for community members to connect when it's most convenient for them. Admins can organize their communities around topics within the group for members to connect around more specific interests. For example, if you're in a BBQ lovers group, there could be a feed channel where you can post and comment on the topic of smokers.