Embracing continuous innovation: How Microsoft is helping customers overcome challenges to transform business and industries
Photo credit: Hiroshi Watanabe/Getty Images As countries have begun to ease travel restrictions, I've had increasing opportunities to meet customers face to face. During my visits, customers shared how they are bringing to life digital optimism to overcome business challenges, especially during the pandemic. Customers are increasingly capitalizing on the value of the Microsoft Cloud…
Photo credit: Hiroshi Watanabe/Getty Images
As countries have begun to ease travel restrictions, I've had increasing opportunities to meet customers face to face. During my visits, customers shared how they are bringing to life digital optimism to overcome business challenges, especially during the pandemic. Customers are increasingly capitalizing on the value of the Microsoft Cloud to enable continuous innovation. What's more, they are recognizing the advantages of digital transformation go well beyond a simple cost-benefit analysis. With the Microsoft Cloud, customers are getting integrated solutions that meet their unique needs, including powerful collaboration tools for secure hybrid work and better employee engagement for enhancing efficient operations. Data is also being utilized to strengthen supply chains and increase resiliency through predictive analytics, machine learning and the implementation of digital twins. Plus, as more and more companies make net-zero carbon commitments, they are turning to our cloud to measure, understand and reduce their carbon emissions footprint.
This past quarter we saw the power technology can have in unlocking an organization's potential – for employees, customers, industries and even society more broadly. Wells Fargo announced it's working with Microsoft as its strategic partner and primary cloud provider to advance key transformation priorities across the entirety of its business, including managing risk and control, personalized banking and the digital branch of the future. AT&T shared how we are collaborating in areas like 5G, AI and the Internet of Things (IoT) to support its ambitions to reduce one billion metric tons of greenhouse emissions globally through the delivery of broadband-enabled climate solutions. Verizon debuted an on-premises, private edge compute solution with Microsoft Azure to enable the ultra-low latency needed to deploy real-time enterprise applications. We also announced a partnership with Truveta to globally scale the first health provider-led clinical data platform using Microsoft Azure and AI capabilities, and we are continuing to deepen our partnership with the NBA as the league rolls out a new direct-to-consumer platform built on Azure to deliver personalized sports fan experiences. We also expanded our collaboration with EY to support our customers' cloud strategies through new solutions and platforms that help organizations address business and societal challenges at scale through digital transformation.
ThyssenKrupp Steel Europe bids farewell to datacenters, gaining faster system deployment with SAP on Azure.
Manufacturers are turning to the Microsoft Cloud for supply chain innovation
To support data-driven manufacturing across more than 100 factories, global manufacturer SKF implemented hybrid cloud solutions to reduce cost, improve effectiveness and streamline management. ThyssenKrupp Steel Europe moved its entire SAP landscape to Azure to gain new insights into its own systems, scale service capacity and ensure availability. Belgium-based lime and minerals producer Lhoist is renewing its focus on industrial cybersecurity in a global initiative to increase operational efficiency using Azure Defender for IoT. New Zealand's largest rural supply cooperative, Farmlands, is using Dynamics 365 to support automation innovation and boost efficiency across the rural supply chain. To help farmers become more sustainable, Lindsay is leveraging IoT to enable data insights for agricultural irrigation, while Netherlands-based Nutreco is keeping employees connected with cloud productivity tools that provide insights for sustainable food production. Focused on power-management technologies that are efficient, safe and sustainable, Eaton deployed mixed-reality technologies to increase collaboration and speed to market, while U.K.-based medical technology leader Smith + Nephew created a highly secure environment to support its business strategies using cloud productivity tools from Microsoft 365 that empower employees with modern, mobile ways of working.
Gibson Brands streamlines its business and creates an immersive customer experience with Microsoft Dynamics 365.
Retailers are better serving customers through intelligent insights and productivity tools
Serving 100 million customers globally, Edible Arrangements built a new data warehouse and analytics platform using Azure Synapse Analytics to scale and become more agile. Procter & Gamble is driving a data-enabled culture and operationalizing algorithms into every major business decision to better understand and serve its customers using AI, machine learning and advanced analytics. Walgreens is empowering its pharmacists with an intelligent prescription data platform on Azure to better serve customers. In Brazil, Natura developed a centralized and scalable customer service system with Dynamics 365 to give a comprehensive view of customers and reinforce its culture of customer care. The world's most iconic guitar brand, Gibson, transitioned to Dynamics 365 during the pandemic to shift its online sales strategy. Across Europe, customers are seeing the benefit of our productivity tools, including LVMH and Metro Digital, which are using Teams and Teams Phone for collaboration to enable hybrid work. Multinational retailer H&M also set up a Power Platform Center of Excellence to encourage continued citizen development while maintaining security and governance.
The Government of Nunavut strengthens IT connections with remote communities and helps secure hybrid workplaces with Microsoft 365.
From cars to neurosurgery, our cloud is fueling transformation across every industry
British electric-vehicle company Arrival is using Azure, machine learning and edge computing to accelerate development of its open data platform for vehicles and fleets, while Japanese automaker Nissan Motor Corporation adopted Surface Go 2 to enable traceability of inspection data for workers on the factory floor. Thai petroleum company PTTEP introduced Surface devices to bridge digital platforms and physical distances to achieve its vision of a work-anywhere culture, and bp is using AI and digital twin technology as a key enabler to transition to an integrated energy company. In financial services, IOL invertironline is using advanced analytics tools to personalize customer experiences and aid in realtime decision-making for its operations across Latin America, while in Denmark BEC transformed internal workflows and communications to ease hybrid work for employees using Surface Hub. During the pandemic, the Government of Nunavut maintained core community services with a secure and reliable hybrid staffing model using Microsoft 365. The City of Laval in Canada is infusing AI and machine learning into its non-emergency hotline to further develop smart city initiatives, and CSIRO is using AI and a space technology-powered digital twin to create the world's largest remote herd management system to protect ecological and economic systems across Australia. Doctors in Singapore's National University Health System are removing brain tumors with 3D precision thanks to mixed reality and neurosurgery, and HCA Healthcare is simplifying and improving the patient onboarding experience and cutting down on administrative time with Azure Applied AI Services. South Korean company Gamepub is hosting its database infrastructure on Azure to ensure global service availability for gamers while multinational video game publisher Bandai Namco is empowering people with disabilities to take part in a greater variety of work using HoloLens 2 and Dynamics 365 Guides. Telkom Indonesia is accelerating digital transformation to enable the country's digital sovereignty, and NEC chose Azure as its preferred cloud platform to boost business resiliency and growth across Japan. In travel and transportation, London Heathrow Airport is using data governance and analytics tools to optimize operations, support continued growth and improve air travel experiences.
Climate change demands intelligent buildings — Nomad Go and Sony Semiconductor Solutions are helping make them smarter.
Fueling our customers' transformation with a robust partner network
Peruvian pastry shop María Almenara is using AI and machine learning to produce daily and weekly sales forecasts store by store with the help of SP Peru. We are working with partner AIS to equip Thai startups with the necessary tools, guidance, insights and customer and partner connections to boost business growth and make crucial contributions toward rehabilitation of the country's economy. Turkish energy distribution company Opet, with support from KoçSistem, is using Arc-enabled data services to comply with a new privacy law quickly and securely. In Sri Lanka, ZILLIONe helped Durdans Hospital adopt Dynamics 365 for its CRM solution to improve patient-care processes and experiences. Be-Cloud is helping small- to medium-sized businesses enhance their security environments through a unified portal with Microsoft 365 Lighthouse that delivers standardized services. Nomad Go, with help from Microsoft's and Sony Semiconductor Solutions' Co-Innovation Lab, is using computer vision to create a solution that helps its commercial real estate customers know precisely when to warm, cool and ventilate a room based on occupancy and significantly cut energy usage and greenhouse emissions. In South Africa, Old Mutual, with the help of PricewaterhouseCoopers, is using Microsoft Viva to gain visibility into workplace behavior, understand how their employees work now and will work in the future.
Digital transformation represents an opportunity for customers to achieve ongoing innovation that benefits their organization and industries in which they operate, from how employees work and stay productive, to managing the complexity, resiliency and sustainability of supply chains. I'm incredibly inspired by the success our customers are realizing through Microsoft technology and look forward to enabling every company to achieve their bold ambitions as their trusted digital advisors and strategic cloud partner.
Tags: AI, Azure, Azure Arc, Azure Cognitive Services, Azure HPC, Azure IoT, Azure Purview, Azure Synapse Analytics, Cloud Computing, COVID-19, customers, Dynamics 365, Dynamics 365 Remote Assist, healthcare, Healthcare Bot, HoloLens, IoT, manufacturing, Microsoft 365, Microsoft Cloud, Microsoft Ignite, Microsoft Inspire, Microsoft Power Platform, Microsoft Teams, Microsoft Viva, mixed reality, partners, Power BI, PowerApps, Retail, Surface, Surface Go 2, Synapse
Facebook: Our Largest Ever Climate Survey Can Inform Policies, Research and Campaigns Around the World
Today, Meta and researchers at Yale University are publishing the results of our biggest ever global survey about public views towards climate change. In March and April this year, a sample of more than 100,000 Facebook users from nearly 200 countries and territories were asked about their knowledge of, and attitudes and behavior towards, climate change…
Today, Meta and researchers at Yale University are publishing the results of our biggest ever global survey about public views towards climate change. In March and April this year, a sample of more than 100,000 Facebook users from nearly 200 countries and territories were asked about their knowledge of, and attitudes and behavior towards, climate change issues and what should be done to address them. The results paint a picture of deep concern around the world and the desire of a significant majority of people to see governments and others take meaningful action.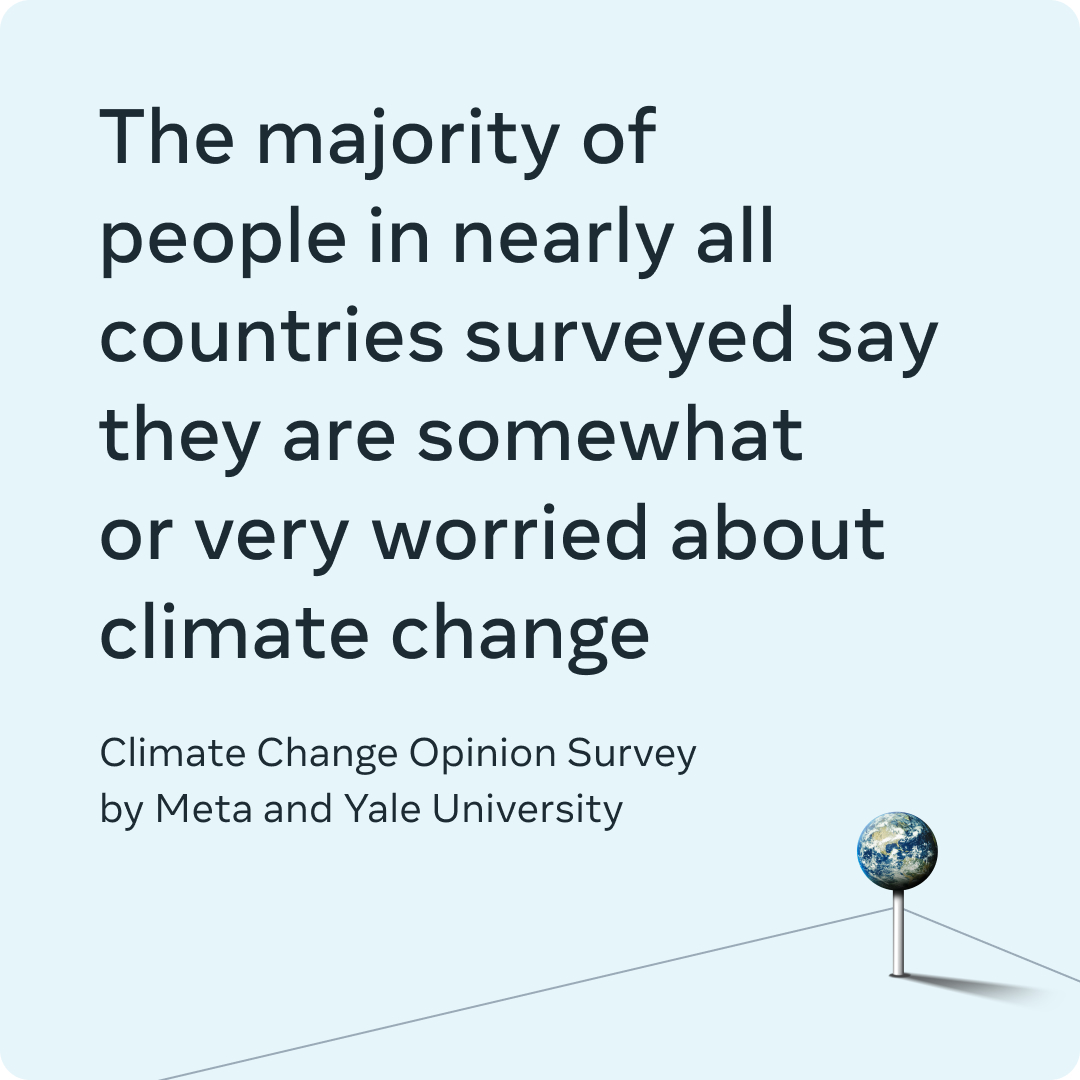 The survey is a collaboration between Meta and the Yale Program on Climate Change Communication, as part of Meta's Data for Good program. It is hoped its findings can be used to inform policy decisions and priorities for governments, especially in many countries where surveys of this sort have not taken place before. The findings should also be valuable for researchers around the world, as well as a resource to inform public information or awareness raising campaigns by activists and NGOs, and help journalists with nationally-relevant data. For example, the Social Progress Imperative is using data from this survey to develop a new Climate Perception Index, which will serve as a tool to better understand the societal implications of climate change and will provide insights for policy makers on where to focus most in order to deliver tangible societal outcomes to their citizens.
The survey found:
The majority of people in nearly all countries surveyed say they are somewhat or very worried about climate change, including more than 9 in 10 respondents in many countries in Central and South America. In almost every country, majorities saw climate change as a threat to their country or territory over the next two decades.
A majority in two-thirds of the countries and territories surveyed think climate change will harm future generations a great deal. 
Majorities in nearly all countries think climate change is caused at least partially by human activity. Europeans were most likely to correctly answer that climate change is caused by human activities, led by Spain (65%) and Sweden (61%).
In most countries, a majority say they don't hear about climate change at least once a week in their daily lives. Europeans are more likely to say they hear about climate change at least once a week compared to other regions.
Most people say their country should reduce pollution causing climate change, either on their own or if other countries also do so. However, people have different views on who is primarily responsible for reducing pollution — majorities in 43 countries said their government is responsible, 42 countries said individual people and 25 said businesses. 
People everywhere think climate change should be a high priority for their government. Majorities in most countries in North and South America say it should be a "very high" priority.
A majority in almost all areas surveyed think action to reduce climate change will either improve or have no negative impact on the economy.
People support using more renewable energy and less fossil fuels. About 9 in 10 people in Hungary, Portugal and Spain think their country should use somewhat or much more renewable energy.
The Data for Good program is an unprecedented collaboration between technology companies, the public sector, universities, nonprofits and others using privacy-protected datasets for social good, including disaster relief and recovery. Many of our humanitarian partners operate in some of the most challenging environments in the world. By sharing free tools that provide fast insights, Meta data has made decision-making on the ground easier, cheaper and more effective. In recent years, this collaboration has informed policies governing things like the delivery of vaccines and aid to Ukrainian refugees, and been utilized for environmental campaigns in the US, Germany, Belgium, Croatia and the UK.
Alongside the survey, Meta has also published its annual Sustainability Report, detailing the solid progress we're making in minimizing the environmental impact of our business, supply chain and wider community. This includes:
Setting an ambitious goal to be water positive by 2030, meaning we will restore more water than our global operations consume. In 2021, Meta helped restore more than 2.3 million cubic meters of water through investments in water restoration projects.  
Progress towards our goal of reaching net zero emissions across our value chain, and maintaining 100% renewable energy for our global operations.
Expanding our Climate Science Center to more than 150 countries.
Supporting key policies to advance sustainable policies and climate action, such as joining the European Climate Pact and participating in organizations advocating for clean energy policies in the United States.
Read the full climate opinion survey report and sustainability report.
Facebook: Uplifting Tribal Communities in India Through Digital Entrepreneurship
Inspired by the rich culture and talent represented by the tribal and indigenous communities of India, we are extending our collaboration with the Ministry of Tribal Affairs to launch the second phase of the Going Online As Leaders (GOAL) program. GOAL 2.0 will look to digitally upskill, connect and empower 10 lakh youth and women…
Inspired by the rich culture and talent represented by the tribal and indigenous communities of India, we are extending our collaboration with the Ministry of Tribal Affairs to launch the second phase of the Going Online As Leaders (GOAL) program. GOAL 2.0 will look to digitally upskill, connect and empower 10 lakh youth and women from the tribal communities of the country and will act as a bridge for the socially marginalized youth with a vast canvas of opportunities using technology that they otherwise may not have access to.
Through this program, the identified GOAL participants will have access to Meta Business Coach — a WhatsApp based learning bot — that will give the participants an opportunity to learn skills on how to build and grow their business using Facebook, Instagram and WhatsApp. To empower the participants to play an active role in the digital economy, the program will also include Facebook Live sessions in nine languages by master trainers on topics like Anti Scamming education, staying safe online, how to combat misinformation and being a good digital citizen. 
​Sh. Arjun Munda, Hon'ble Minister of Tribal Affairs launched the second phase of the GOAL program.
Speaking on the occasion, Sh. Munda said: 
"Honorable Prime Minister, Shri Narendra Modi has always spoken about bridging the digital divide. Digitally empowering India's tribal communities would contribute significantly to the socio-economic development of the country and an important step towards creating a flourishing community of tribal leaders. The first phase of GOAL has seen changing the lives of tribal youth through the digital mentorship program. In the second phase, we will reach out to 10 lakh women and youth entrepreneurs and will also create a platform for more than 50,000 self-help groups and 10 lakh families associated with TRIFED to take their products global." 
Sharing his views on the importance of digital empowerment for the tribal communities, Ajit Mohan, Vice President & Managing Director, Facebook India (Meta) said: 
"India's massive digital transformation can be complete when even the most vulnerable communities of our society are digitally empowered. We are deeply inspired by the stories of some of the Tribal leaders who benefitted from the first phase of GOAL that we kicked off in 2020. We recognize the wide canvas of opportunity that gets unlocked when these tribal communities have access to digital tools and technologies, and that is why we are excited to launch the next phase of this program. In collaboration with the Ministry of Tribal Affairs, GOAL 2.0 will upskill and empower 10 lakh women and youth across tribal communities to harness the full potential of digital platforms and tools."
Tribal population constitutes about 8.6% of the total population in India. Digitally empowering India's tribal communities could contribute significantly to the socioeconomic development of the country and an important step towards creating a flourishing community of tribal leaders.  The first phase of GOAL included inspiring, connecting and upskilling tribal youth from across the country. As a result of GOAL, 75% of the participants from the tribal community admitted to being able to better articulate their thoughts to words and saw an improvement in their interpersonal skills. About 69% were able to leverage digital commerce for increased reach and about 63% said that it helped them understand how to set up their business. 
The program is aimed at empowering youth and women from tribal and indigenous communities to harness the full potential of digital platforms and enhancing their leadership skills for driving community development. Along with digital inclusion, the program aims to actively contribute to the economy by continuing to support the most vulnerable communities in tribal districts with a focus on tribal youth and on businesses led by tribal women in rural areas. 
Facebook: Introducing Features to Quickly Find and Connect with Facebook Groups
New Ways to Organize Your Groups On Facebook, we're testing a new sidebar that helps you easily find your favorite groups more quickly. It will list your groups and the latest activity within them, like new posts or chats you haven't yet seen. You can also pin your favorite groups so they show up first,…
New Ways to Organize Your Groups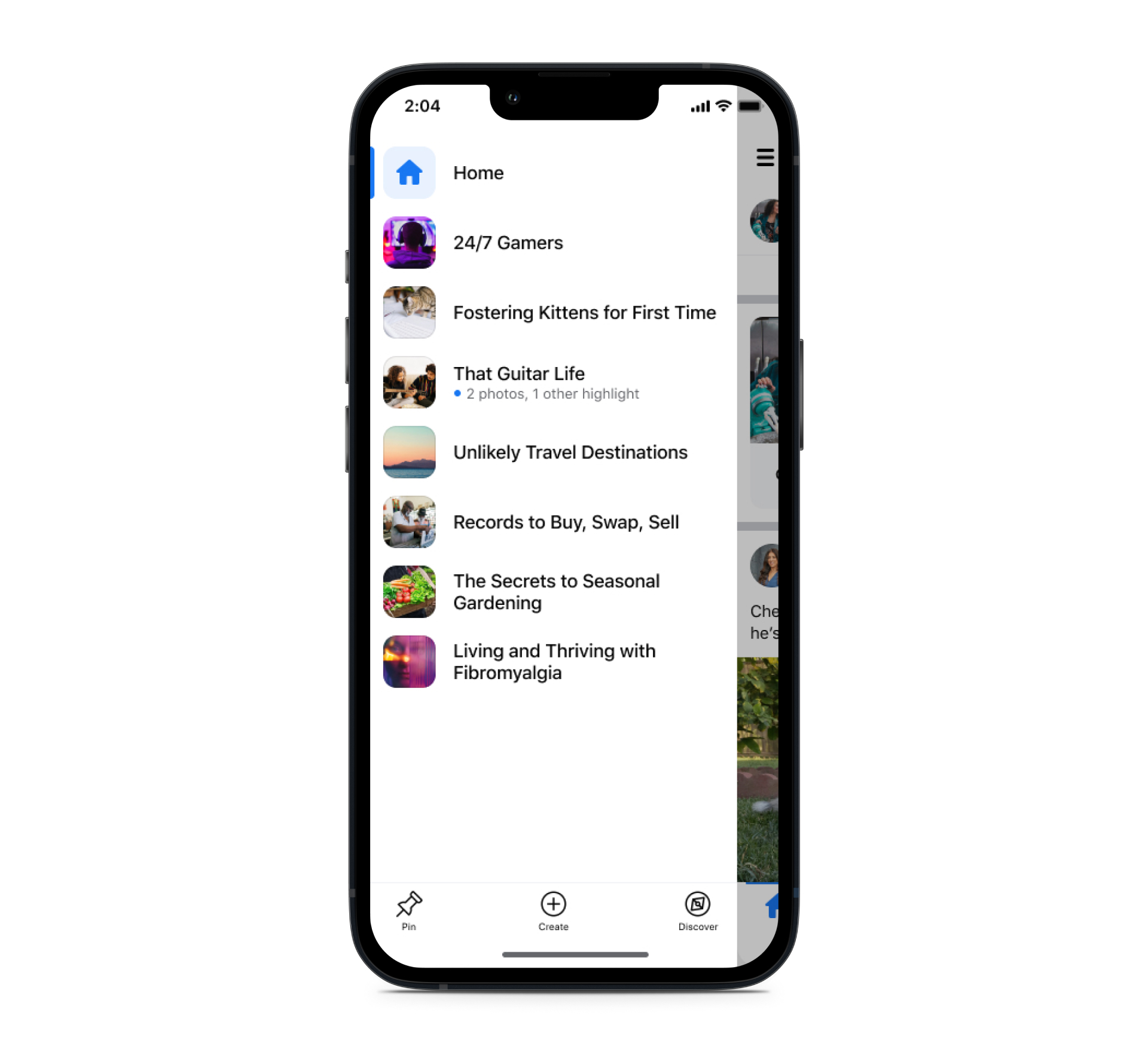 On Facebook, we're testing a new sidebar that helps you easily find your favorite groups more quickly. It will list your groups and the latest activity within them, like new posts or chats you haven't yet seen. You can also pin your favorite groups so they show up first, discover new groups or even create your own. For example, if you want quick access to the latest recipes in your cooking group, you can now pin it to the top, find related groups and be inspired to start your own.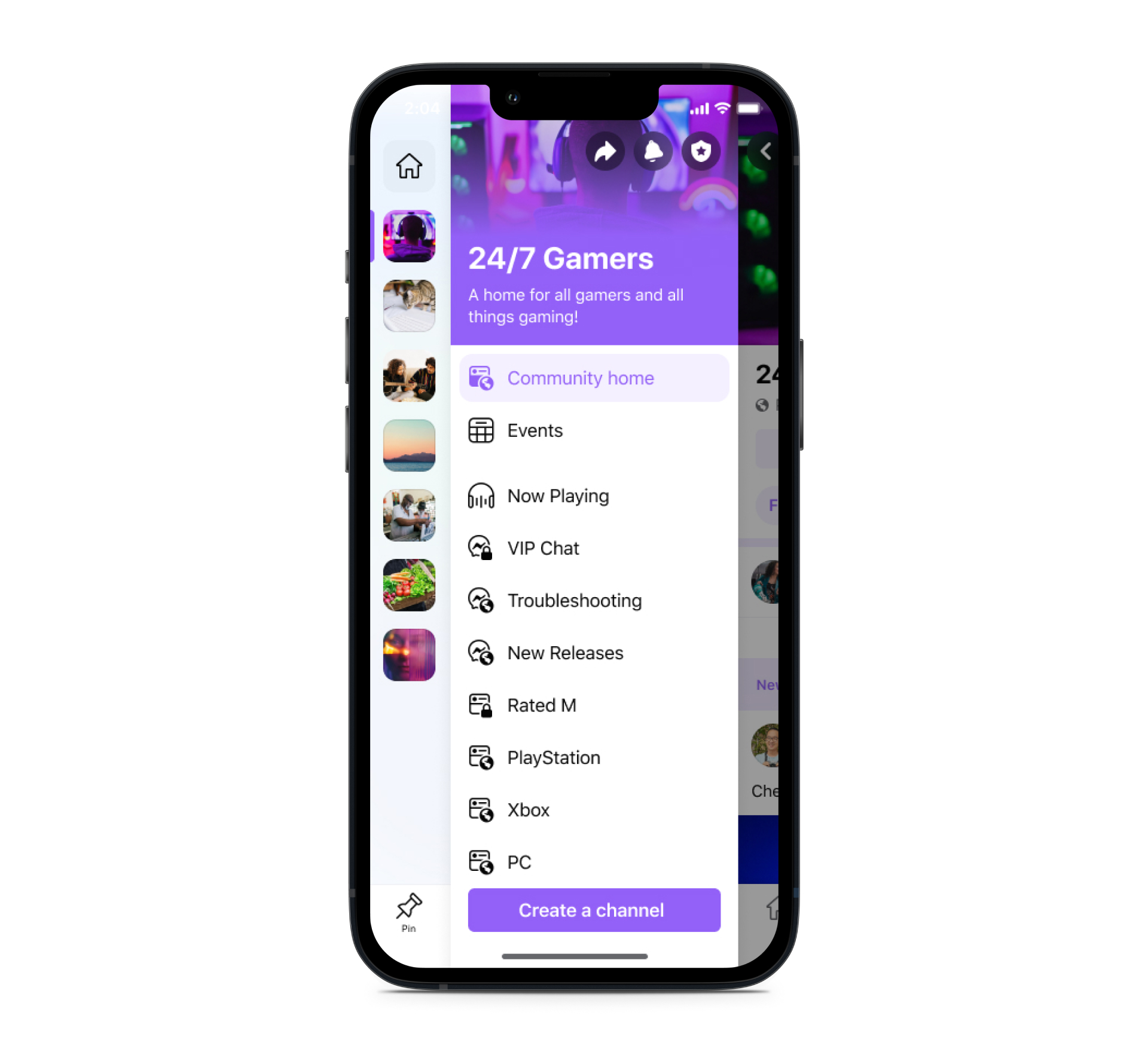 We're improving how each group is organized, so you can jump right into what's happening. Within your group, you'll see a new menu that includes things like events, shops and a variety of channels to make it easier to connect with others around the topics you care about. So, once you're in your cooking group, you'll be able to stay up to date with the group's upcoming events, buy their latest swag and seamlessly join conversations. 
Connect in Smaller Spaces
Admins can begin to create channels to connect with their groups in smaller, more casual settings where they can have deeper discussions on common interests or organize their communities around topics in different formats: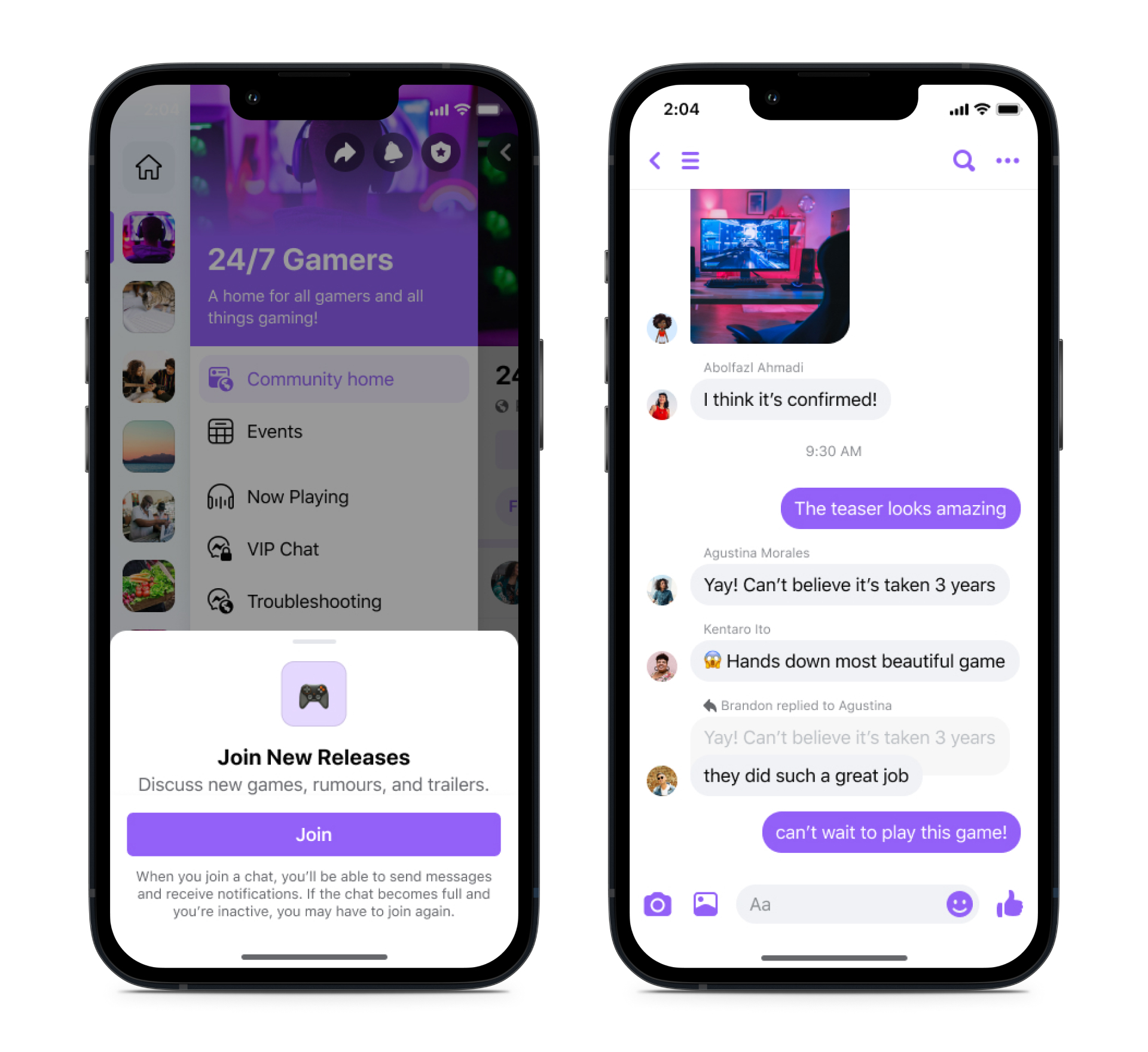 Community chat channels: a place for people to message, collaborate and form deeper relationships around topics in a more real-time way across both Facebook Groups and Messenger. So when you're in your new BBQ lovers group and need real-time feedback while attempting your first brisket, an admin can create a chat for that.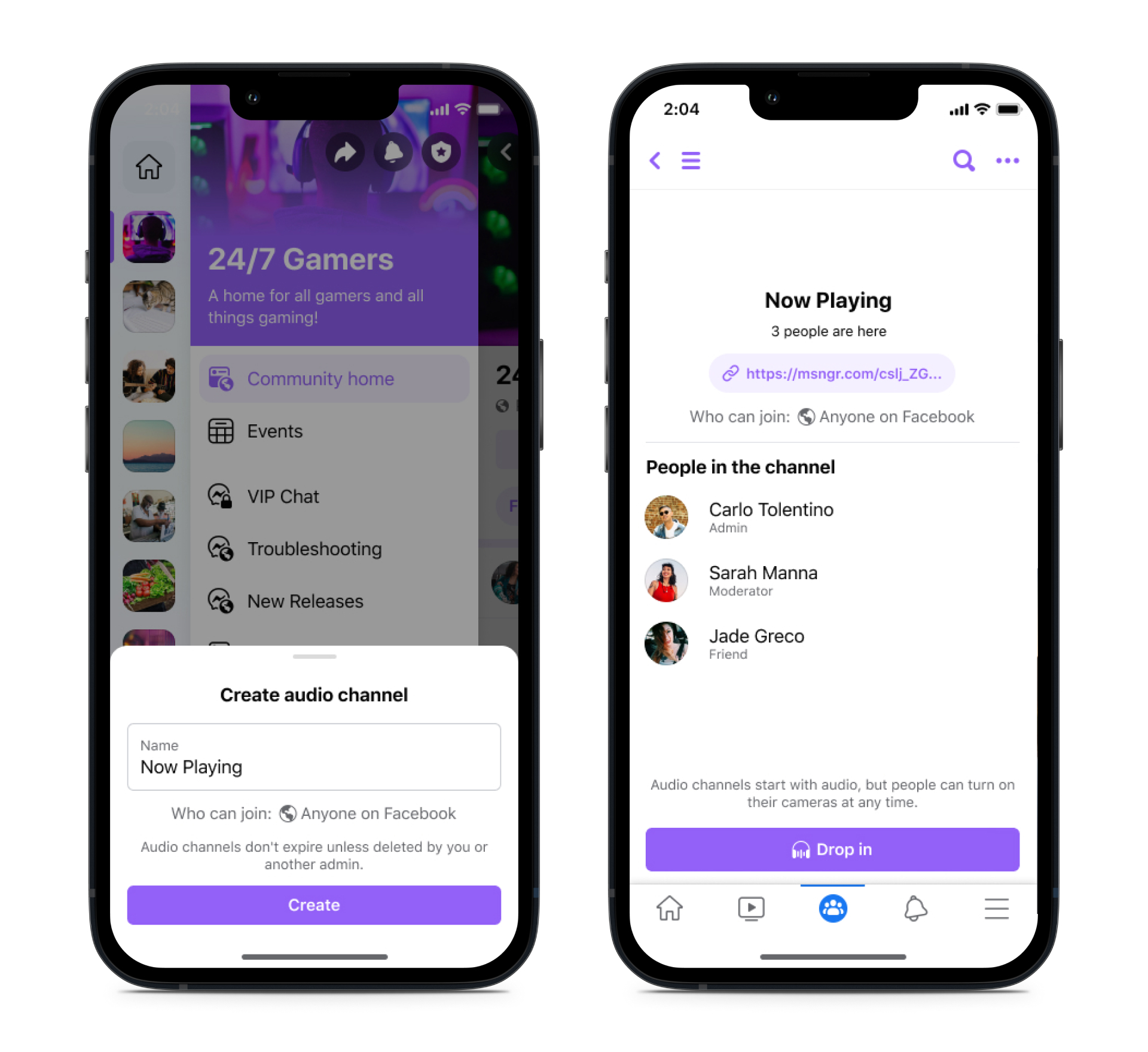 Community audio channels: a feature where admins and members can casually jump in and out of audio conversations in real time. If you're looking to hear best practices from other grill masters in your BBQ lovers group, there could be an audio channel created that's available within your Facebook Group and on Messenger.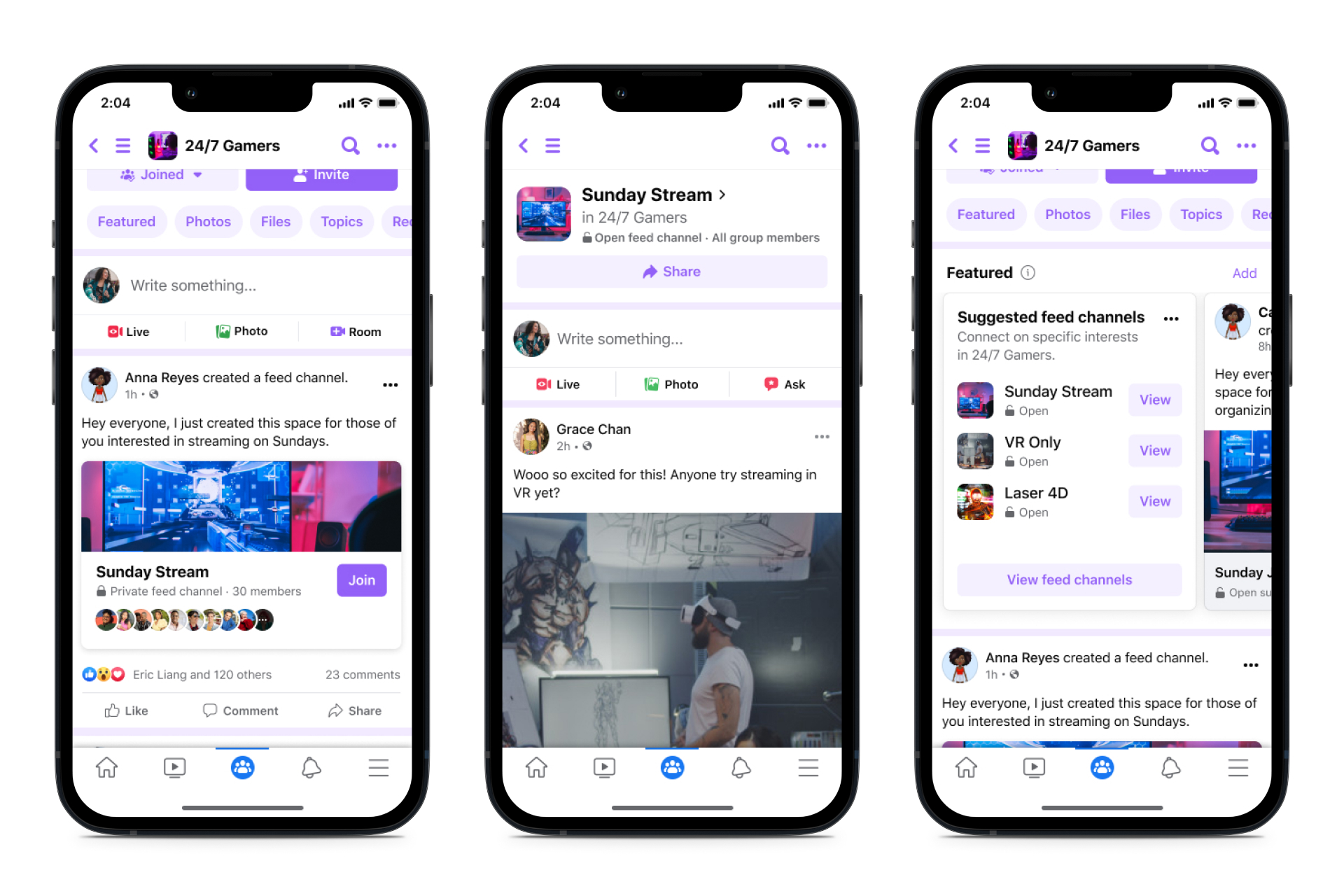 Community feed channels: a way for community members to connect when it's most convenient for them. Admins can organize their communities around topics within the group for members to connect around more specific interests. For example, if you're in a BBQ lovers group, there could be a feed channel where you can post and comment on the topic of smokers.