2022 release wave 1 plans for Dynamics 365 and Power Platform now available
January 25, 2022 8 min read Toggle share menu for: 2022 release wave 1 plans for Dynamics 365 and Power Platform now available Share Mo Osborne Corporate Vice President & Chief Operating Officer- Digital Transformation Platform Group Today, we published the 2022 release wave 1 plans for Microsoft Dynamics 365 and Microsoft Power Platform, a compilation…
January 25, 2022 8 min read
Corporate Vice President & Chief Operating Officer- Digital Transformation Platform Group
Today, we published the 2022 release wave 1 plans for Microsoft Dynamics 365 and Microsoft Power Platform, a compilation of new capabilities that are planned to be released between April 2022 and September 2022. This first release wave of the year offers hundreds of new features and enhancements, demonstrating our continued investment to power digital transformation for our customers and partners.
Highlights from Dynamics 365
Dynamics 365 Marketing continues to invest in collaboration by enabling collaborative content creation with Microsoft Teams. Marketers can use content fragments and themes to improve authoring efficiency. Investments in Data and AI enable marketers to also author content with advanced personalization using codeless experiences. Every customer interaction matters, and in this release, we are enabling our customers to continue the conversation with their customers by responding to SMS replies through a personalized experience based on responses using custom keywords that can be added to journeys.
Dynamics 365 Sales is putting data to work and enabling seamless collaboration to empower sales professionals to be more productive and deliver value in every customer interaction. Business data is now ambient and actionable from within Microsoft 365 interfaces, enabling sellers to quickly establish context and act on data. Using a single workspace in the Sales Hub, sellers can adjust their sales pitch using AI-guided live feedback and suggestions, and managers can track team performance and provide valuable coaching to help boost customer satisfaction.
Dynamics 365 Customer Service continues to invest in delivering capabilities that ensure personalized service across channels, empower agents, and make collaboration easier in an ever-increasing remote world. With the new Customer Service Admin center app, we're simplifying the setup with guided, task-based experiences making it easier to get up and running quickly. Enhancements to the inbox view allow agents to rapidly work through issues across channels while maintaining a focus on the customer. Investments in collaboration with Microsoft Teams include data integration, AI-suggested contacts, and AI-generated conversation summaries. Lastly, investments in knowledge management include relevance search integration and historical analytics, and unified routing with default queue enhancements and routing diagnostics.
Dynamics 365 Field Service brings innovative enhancements and usability improvements to the schedule board. The new schedule board is now at functional parity with the previous version, and we are enhancing the user experience of hourly and multi-day views to improve dispatcher productivity. Additionally, the Field Service mobile application includes enhancements to boost technician productivity and is now fully supported on Windows devices. 
Dynamics 365 Finance is launching the general availability of subscription billing to ensure organizations can thrive in a service-based economy. We are enabling our customers to maximize financial visibility and profitability by bringing intelligent automation around vendor invoicing, financial close through ledger settlements, and year-end close services. In addition, we are releasing to market the preview of Tax Audit and Reporting Service. Lastly, we continue to enhance our globalization offerings in Globalization Studio such as Tax Calculation and Electronic Invoicing. With Globalization Studio, these low-code globalization services and their multi-country content will be available to any first and third-party app and extended with prebuilt ISV connectors.
Dynamics 365 Supply Chain Management investments continue to focus on driving agility and resilience in the supply chain. Enhanced warehouse and manufacturing execution workloads enable businesses to scale mission-critical operations using cloud and edge scale units. Planning Optimization brings new manufacturing scenarios and planning strategies to help businesses, and manufacturers, shorten planning cycles, reduce inventory levels, and improve customer service. The new global inventory accounting functionality allows inventory accounting in multiple representations to simplify operations for businesses working in multiple currencies or facing different local and global accounting standards.
Dynamics 365 Intelligent Order Management brings an expanded set of out-of-the-box provider integrations, enabling rapid deployment and connectivity to an ecosystem of solutions in the order capture, logistics, fulfillment, and delivery process flows. Combined with the rich ecosystem of providers, customers will have the ability to achieve advanced order orchestration using the new expanded set of features and optimizations supported in inventory orchestration, order actions, and fulfillment. This release wave brings a brand-new Returns and Exchange management service directly integrated into e-commerce solutions. This service enables customers to orchestrate journeys that minimize operational costs related to getting merchandise back on shelves and drive clear communication with their consumers.
Dynamics 365 Project Operations is investing in enabling capabilities ranging from onboarding, estimating, and using resources from external talent pools helping to boost efficiencies in project planning and delivery. Customers will also be able to upgrade from Project Service Automation to Project Operations using an in-place upgrade experience. In addition, customers can bring their own project management tools through a generic API where task scheduling can happen in the project management tool of choice and then integrate to Project Operations, becoming available to users in a read-only manner. Resource scheduling and booking would remain in Project Operations.
Dynamics 365 Guides continues to invest in capabilities that improve the collaboration experiences for authors and operators on HoloLens 2. The application will also be updated to support guest access so that customers can share their guides with users outside of their organization.
Dynamics 365 Remote Assist is investing in B2B service scenarios by bringing one-time calling to general availability and supporting additional calling policies for external users. Additionally, we are updating the Remote Assist mobile app to support improved collaboration through the ability to share screens across iOS and Android.
Dynamics 365 Human Resources will equip HR professionals with the ability to tailor experiences and automatically complete processes when employees are joining, leaving, and moving within an organization. We will also provide intelligent talent management capabilities to enable companies to understand the gap between the skills needed for the organization and employees to be successful, and the skillset held by the organization's current workforce. By providing this intelligent talent management capability, Dynamics 365 Human Resources enables companies to ensure the right people are in the right jobs, but also plan for the future.
Dynamics 365 Commerce continues to invest in key B2B commerce scenarios, including sales agreements, on-behalf-of ordering, and partner-specific product catalogs and pricing. This release also introduces customer segmentation and targeting with Dynamics 365 Customer Insights, and out-of-box A/B experimentation and analytics tools. The new Store Commerce app streamlines point of sale deployment and servicing while improving performance. New workflows in headquarters, bulk image upload, and manifest-driven upload simplify the management of media assets across channels. Lastly, customer service functionality is easily enabled on your e-commerce site with Power Virtual Agents and Omnichannel for Customer Service.
Dynamics 365 Fraud Protection is delivering multiple new capabilities in this release. Operators of Payment Service Providers will be able to offer fraud protection as a service to their businesses, including those that have multi hierarchy business structure. Deep search capabilities enhancing analytics and policy settings have now been enabled as well as integrated case management for purchase protection. In addition, Fraud Protection now offers support for native mobile applications as well as businesses building their offering on top of Power App portals. Finally, customers will be able to choose to have Dynamics 365 Fraud Protection provisioned within Canada if they have specific data residency needs or latency requirements that would require it.
Dynamics 365 Business Central continues to simplify the customer onboarding experience by offering a modern Help Pane that gives users guidance and learning content where they need it most, in the context of their work. The Help Pane flattens the learning curve, increasing productivity, and business process adoption. Customers using Microsoft Power Platform can use the new capabilities of our connectors. In this release, we are making it easier to trigger a Power Automate flow directly from Business Central pages, which can save time by automating business processes. Collaborating on Business Central data in Microsoft Teams is smoother because we've removed the licensing friction. 
Dynamics 365 Customer Insights, Microsoft's customer data platform, expands the footprint of consent enablement features across more areas within Customer Insights. It enables customers to integrate and harmonize consent data from multiple consent systems and data sources. This will ensure that consent permissions and preferences of your customers are honored during real-time personalization scenarios in Customer Insights. New data enrichment capabilities will enable customers to leverage our safe data collaboration capability to share and enrich their customer data. Safe data collaboration puts you in control of your data with privacy-enabled workflows to join and enrich your data with other datasets.
Highlights from Microsoft Power Platform
Power BI continues to invest in empowering every individual, team, and organization to drive a data culture. For individuals, we are improving the create experience through the addition of measures using natural language and allowing users to collaborate via OneDrive. For teams, we are bringing enhancements to Goals focused on enterprise needs, integration with PowerPoint, and adding new capabilities to the Power BI integration in Teams. To empower the organization, we are improving our experience with big data through automatic aggregations, data protection capabilities via data loss prevention (DLP) policies, and providing improved visibility into user activity to admins.
Power Apps maintains focus on enabling developers of all skill levels to build enterprise-class apps infused with intelligence and collaboration capabilities. Makers will be able to collaborate on the same app to simultaneously work and merge changes to accelerate development and track collaboration. Makers and developers of all skill levels will be more productive with Dataverse, leveraging intelligence to assist development with natural language to code, powered by advanced AI models such as GPT-3 and PROSE. Most importantly, we are including key updates to ensure organizations can deliver flagship apps across the entire company faster and safer than ever. These include allowing packaging of apps to be deployed on Android and iOS and improvements to ALM and governance capabilities to ensure safe and scalable rollouts.
Power Apps portals continue to invest in bringing more out-of-the-box capabilities to support both low-code/no-code development as well for professional developers. Some of the salient capabilities for makers include converting portals into cross-platform mobile applications by enabling them as progressive web apps, an option to use Global search powered via Dataverse search integration, and enhancements for professional developers to do more with portals using Microsoft Power Platform PAC CLI tool.
Power Automate is more accessible than ever, which makes it easier to get started automating tasks no matter where you are in Microsoft 365. We have seen customers of all sizes increase the scale of their robotic process automation (RPA) deployments; therefore, we are adding features to make it easier to manage machines in Azure and the credentials of users and accounts. Finally, all the features we are building are increasingly automatable by default, adhering to the API-first approach, so that IT departments can manage their Power Automate infrastructure in whatever way they want.
Power Virtual Agents brings improvements in the authoring experience with commenting, Power Apps portals integration, data loss prevention options, proactive bot update messaging in Microsoft Teams, and more.
AI Builder is adding capabilities around document automation—in particular, the ability to process unstructured documents, such as contracts or e-mails. By extracting insights from the semantic understanding of the text in unstructured documents, customers will be able to extract key information from documents and process them automatically in an end-to-end flow using Power Automate. We are also focusing on building out a Feedback Loop process, enabling improvement of model accuracy by retraining models with data processed in production. Lastly, we are adding capabilities to effectively manage the governance and lifecycle of AI Models.
For a complete list of new capabilities, please check out the Dynamics 365 and Microsoft Power Platform 2022 release wave 1 plans.
Early access period
Starting January 31, 2022, customers and partners will be able to validate the latest features in a non-production environment. These features include user experience enhancements that will be automatically enabled for users in production environments during April 2022. Take advantage of the early access period, try out the latest updates in a non-production environment, and get ready to roll out updates to your users with confidence. To see the early access features, check out the Dynamics 365 and Microsoft Power Platform pages. For questions, please visit the Early Access FAQ page.
We've done this work to help you—our partners, customers, and users—drive the digital transformation of your business on your terms. Get ready and learn more about the latest product updates and plans, and share your feedback in the community forum for Dynamics 365 or Microsoft Power Platform.
Facebook: Community Standards Enforcement Report Assessment Results
In August of 2020, we committed to undertaking and releasing an independent, third-party assessment of our Community Standards Enforcement Report. Today, we're delivering on that commitment and publishing EY's independent findings. We selected EY based on their expertise, experience and ability to work with large, novel data sets. To ensure the metrics were measured and…
In August of 2020, we committed to undertaking and releasing an independent, third-party assessment of our Community Standards Enforcement Report. Today, we're delivering on that commitment and publishing EY's independent findings.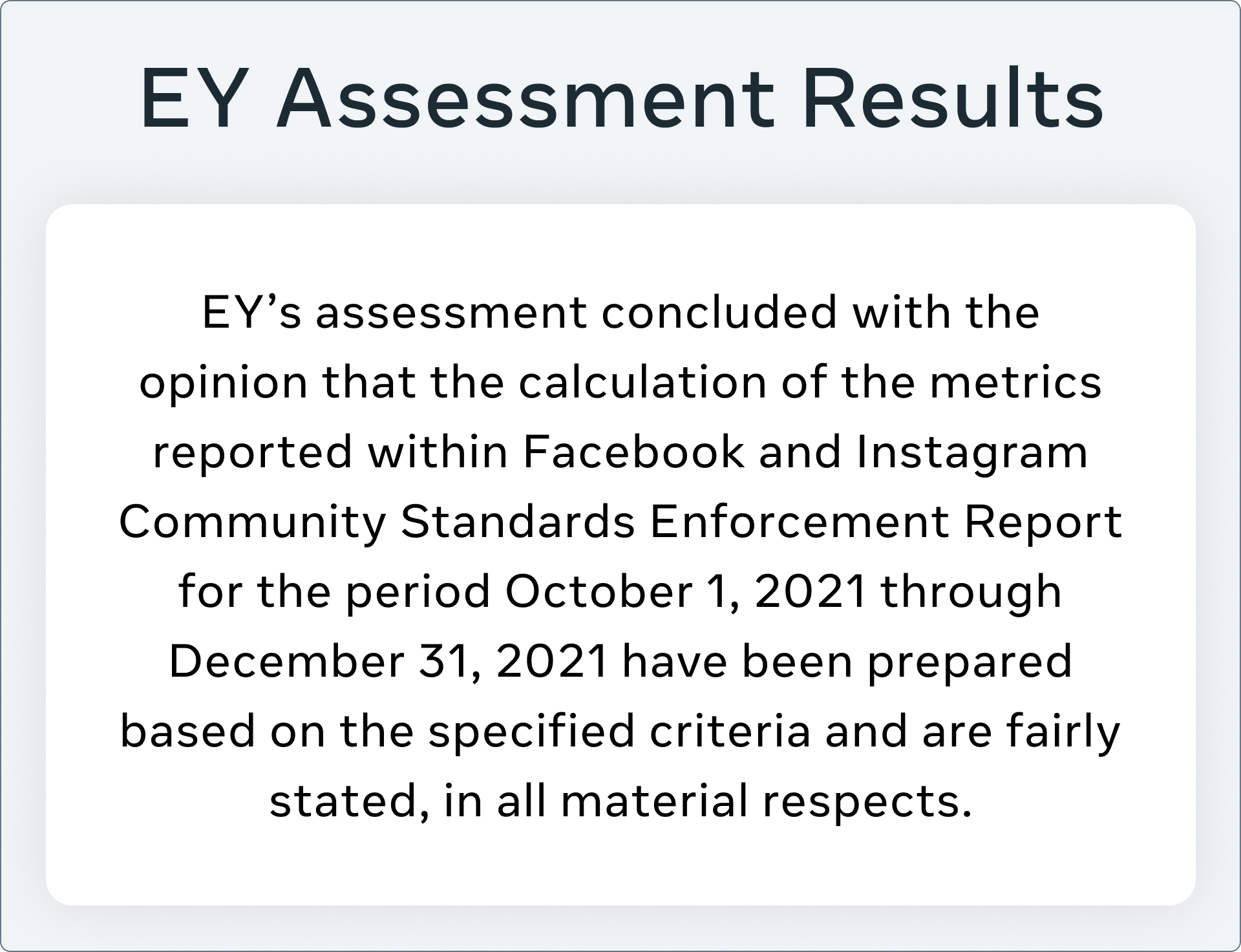 We selected EY based on their expertise, experience and ability to work with large, novel data sets. To ensure the metrics were measured and reported correctly, we underwent in-depth preparation to give EY an understanding of our processes, systems and controls. We also provided them with data and evidence requested to conduct their assessment. 
The globally adopted Committee of Sponsoring Organizations of the Treadway Commission (COSO) framework was selected as the criteria against which the assessment would evaluate Meta's internal controls. This rigorous and widely used internal control framework was used to verify the accuracy of the metrics and validate the design and operating effectiveness of the controls. It's the same framework we use to assess our internal controls over financial reporting and the financial statements that are included in our Annual Report filed with the Securities and Exchange Commission (SEC).
As part of the assessment, Meta provided EY with full access to the necessary data, documentation and evidence requests. We also gave access to dozens of employees across data science, data engineering, software engineers, product and program managers and Internal Audit teams working on the Community Standards Enforcement Report. The examination was conducted in accordance with the attestation standards as established by the American Institute of Certified Public Accountants and consisted primarily of 1) applying inspection, recalculation and analytical procedures 2) making inquiries of persons responsible for the subject matter and 3) obtaining an understanding of the measurement systems and processes used to generate, process, aggregate and report the subject matter.
EY evaluated the metrics and reporting methods for the Community Standards Enforcement Report covering the fourth quarter of 2021. As part of their assessment, EY focused on the following areas: Governance, Data Collection, Data Processing, Data Aggregation, Data Disclosures and Reporting and Information Technology General Controls. Learn more about the scope of the assessment.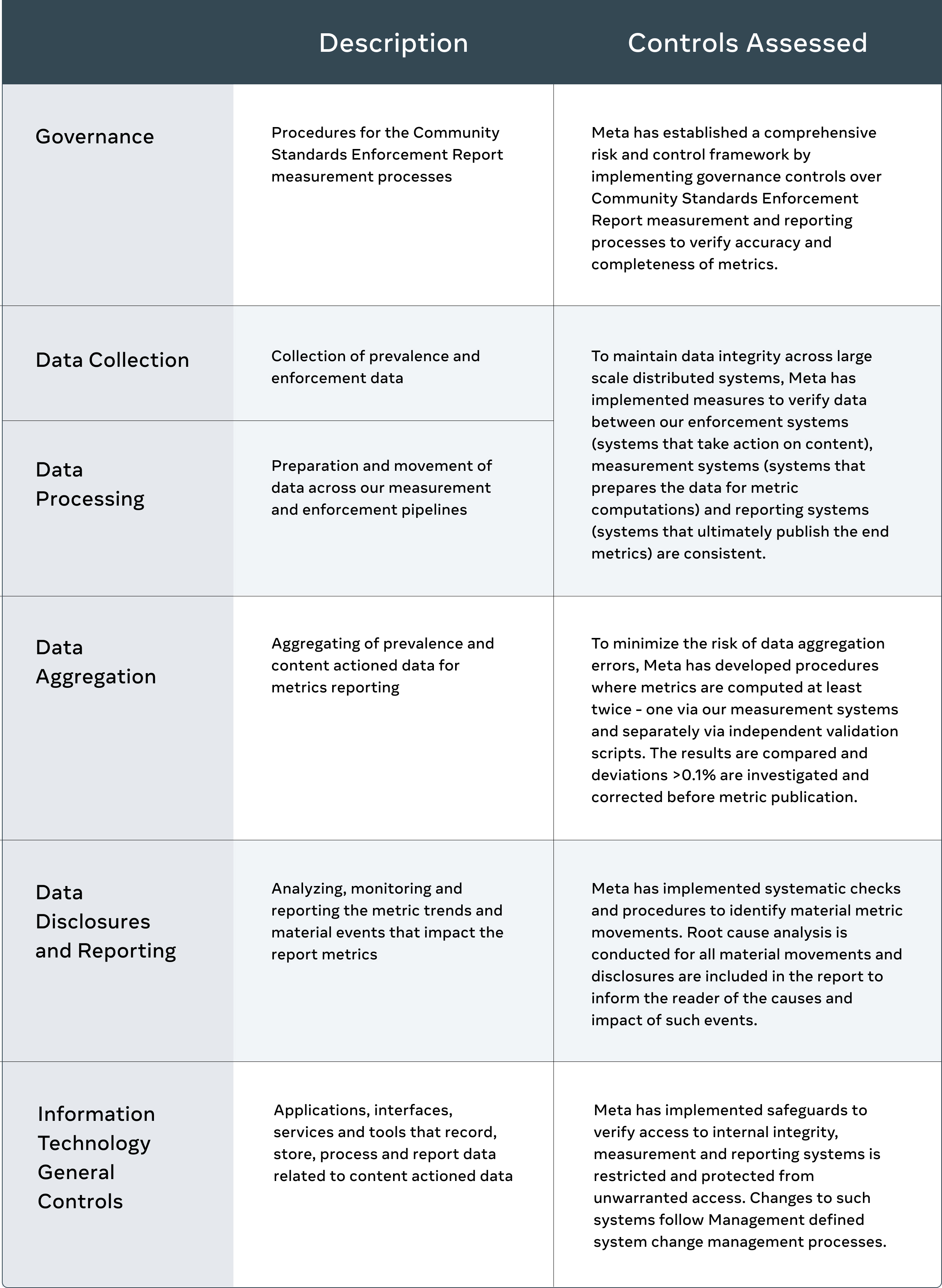 This assessment builds on our previous work in 2018 with international experts in measurement, statistics, law, economics and governance, who provided an independent, public assessment of the metrics we share in the enforcement report. Since then, we have continued to seek out feedback from external stakeholders and experts, including from the Oversight Board, and are working to expand our transparency reports. As we shared today, we are also committing to measuring and reporting metrics around accuracy of our enforcement decisions.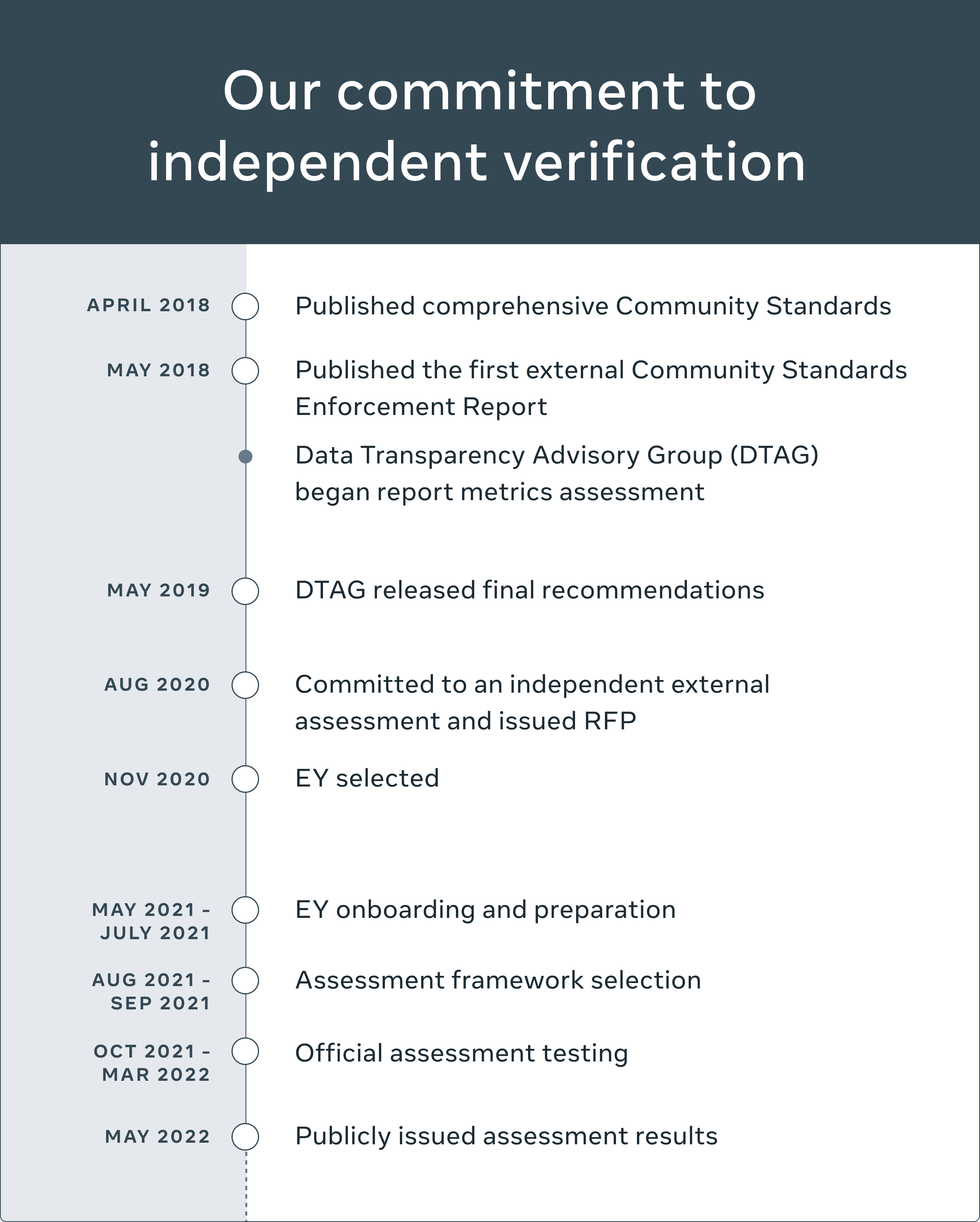 While this assessment looked at the accuracy of the metrics we report, we believe independent, third-party assessments of our integrity systems and processes are also an important part of delivering accountability. We look forward to continuing to build on this commitment and expanding our transparency and accountability efforts, working with industry partners, issue experts and policymakers across the world.
As we said at the beginning of this process, no company should grade its own homework, and the credibility of our systems should be earned, not assumed. Accurate and meaningful transparency is critical to holding platforms accountable. This assessment is a step in that direction.
Facebook: Widely Viewed Content Report, First Quarter 2022
Today, we're publishing the Widely Viewed Content Report (WVCR) for the first quarter of 2022. This report highlights the most-viewed organic content in Feed in the US, including domains, links, Pages and posts. It includes content recommended by Facebook and excludes advertising content. See the full report and Companion Guide for more information.  Updates and…
Today, we're publishing the Widely Viewed Content Report (WVCR) for the first quarter of 2022. This report highlights the most-viewed organic content in Feed in the US, including domains, links, Pages and posts. It includes content recommended by Facebook and excludes advertising content. See the full report and Companion Guide for more information. 
Updates and Enforcements
Based on feedback from several academic and civil society organizations, we are improving our link and domain data methodologies. Previously, we counted a link view as any time a post or video containing a link was viewed, even if the link was not front and center. However, the feedback from these organizations was that our data would be more meaningful if we only counted link or domain views that rendered a preview. Moving forward, links will need to render a preview in order to be counted as a view, as that more accurately represents what people are seeing. As part of the transition, the Q1 2022 report includes top viewed links using both our old and new methodologies. Starting next quarter, the WVCR will use only the new methodology.
In this report, there were pieces of content that have since been removed from Facebook for violating our policies of Inauthentic Behavior. The removed links were all from the same domain, and links to that domain are no longer allowed on Facebook. During the last reporting cycle, we took seriously the feedback criticizing our approach to disclosing additional details about the content removed from Facebook that appears in this report. We have updated our removal disclosure framework in the report and Companion Guide. We will aim to disclose as much information as possible about removed content, including Inauthentic Behavior, that appears in the report moving forward. However, in instances where disclosing specific details on removed content would cause harm to our community, we will err on the side of keeping the community safe. 
Some lower-quality posts ended up amongst our most viewed last quarter, although it is important to note that the top 20 links in this report represent only 0.03% of all Feed content views in the US during the quarter. The fourth URL in the report linked to a YouTube video of a panel discussion held by a U.S. Senator that was rated False by one of our fact-checking partners. When that happened, we took a number of steps to limit the reach of this link, including adding a warning screen that shared more information about the claim, showing a notification warning to someone when they try to share the link and reducing the distribution of the link in Feed. Our strategy mirrors the recommendations of experts and academics in this field: deeper investments in outreach by trusted organizations online, as well as fact-checking as a primary approach to misinformation, since removing certain false claims about COVID-19 can exacerbate feelings of distrust with authorities and further marginalize populations. And without these features, this link would likely have reached more people, and those who viewed it would not have seen additional information and context from the false fact check. 
Insights from the WVCR help inform how we update our existing policies and products, and develop new ones, to address harmful or otherwise objectionable content. For example, we've been testing new ways to reduce clickbait, engagement bait and spam. While we're seeing improvements from these tests, we will need to continually evaluate and refine our approach before seeing consistent results. We'll continue to test alternative solutions to reduce engagement bait, misinformation and content from Pages that repeatedly violate our Community Standards.
Facebook: Transparency Report, Second Half 2021
Today, we are releasing our latest Transparency Report for the second half of 2021.  As always, we strive to be open about the ways we protect users' privacy, security and access to information online. That's why we publish biannual transparency reports to provide detail on the numbers and maintain accountability in our work. Over the…
Today, we are releasing our latest Transparency Report for the second half of 2021. 
As always, we strive to be open about the ways we protect users' privacy, security and access to information online. That's why we publish biannual transparency reports to provide detail on the numbers and maintain accountability in our work. Over the years, we've expanded our report to include the volume of content restrictions based on local law, the number of global internet disruptions that limit access to our products and, most recently, our proactive efforts to protect intellectual property. Additionally, our Transparency Report includes the Community Standards Enforcement Report for Q1 of 2022, which provides data on how we take action against violating content across our platforms. 
Government Requests for User Data
During the last six months of 2021, global government requests for user data increased 2% from 211,055 to 214,777. Of the total volume, the US continues to submit the largest number of requests, followed by India, Germany, France, Brazil and the UK.
In the US, we received 59,996 requests, which was 6% less than the total we received in the first half of 2021. Non-disclosure orders prohibiting Meta from notifying the user remained consistent at 70% in the first and second halves of 2021. In addition, as a result of transparency updates introduced in the 2016 USA Freedom Act, the US government lifted the non-disclosure orders on 12 National Security Letters we received between 2017 and 2021. These requests, along with the US government's authorization letters, are available below.
As we have said in prior reports, we always scrutinize every government request we receive to make sure it is legally valid, no matter which government makes the request.  We comply with government requests for user information only where we have a good-faith belief that the law requires us to do so. In addition, we assess whether a request is consistent with internationally recognized standards on human rights, including due process, privacy, free expression and the rule of law. When we do comply, we only produce information that is narrowly tailored to that request. If we determine that a request appears to be deficient or overly broad, we push back and will fight in court, if necessary. We do not provide governments with "back doors" to people's information. For more information about how we review and respond to government requests for user data and the safeguards we apply, please refer to our FAQs.
Content Restrictions
When content is reported as violating local law, but doesn't go against our Community Standards, we may limit access to that content in the country where the local violation is alleged. During this reporting period, the volume of content restrictions based on local law increased globally 8% from 47,365 in H1 2021 to 50,959 in H2 2021.
Internet Disruptions
We oppose shutdowns, throttling and other disruptions of internet connectivity and we remain concerned by the trend towards this approach in some countries. Even temporary disruptions of internet services can undermine human rights and economic activity. That's why we report the number of deliberate internet disruptions caused by governments around the world that impact the availability of our products. In the second half of 2021, we identified 38 disruptions of Facebook services in 12 countries, compared to 62 disruptions in 17 countries in the first half of 2021.
Intellectual Property
Finally, we report on the volume and nature of copyright, trademark and counterfeit reports we receive each half as well as our proactive actions against potential piracy and counterfeits. In connection with our previously reported data for H1 2021, we discovered we were not accounting for some proactive copyright removals due to an error in the way our technology counted these violations, specific to Rights Manager. This resulted in an undercounting of the number of proactive copyright removals for that reporting period. We have reviewed and resolved this issue and have adjusted the numbers to reflect those removals. Specifically, ​​we proactively removed 16.7 million pieces of content for copyright reasons in H1 2021 (previously reported as 9 million).
During this reporting period for H2 2021, we took down 4,384,719 pieces of content based on 1,217,892 copyright reports; 709,642 pieces of content based on 332,340 trademark reports and 2,121,209  pieces of content based on 97,569 counterfeit reports. We also proactively removed 30,245,249 pieces of content for copyright reasons and 223,770,855 pieces of content for counterfeit reasons. 
Publishing this report furthers our deep commitment to transparency. You can see the full report for more information.