Microsoft + Nuance: Better together to transform business and healthcare outcomes with AI
The promise of technology to advance and meaningfully improve people's lives has never been greater. That is why we are incredibly excited that Microsoft + Nuance have joined forces as one organization.  As a pioneer in conversational AI and ambient intelligence, Nuance combines the power of cutting-edge technology and deep domain expertise across an array…
The promise of technology to advance and meaningfully improve people's lives has never been greater. That is why we are incredibly excited that Microsoft + Nuance have joined forces as one organization.  As a pioneer in conversational AI and ambient intelligence, Nuance combines the power of cutting-edge technology and deep domain expertise across an array of industries – including healthcare, financial services, telecommunications, retail, among others – to design innovative solutions that amplify human intelligence and revolutionize how people interact with technology, so they can be their best selves. Nuance's world-class technology has earned them a market-leading reputation as more than 77% of U.S. hospitals and 550,000 healthcare clinicians worldwide, as well as 19 out of 20 of the world's top financial institutions, and 85% of the Fortune 100 trust their solutions to deliver superior outcomes every day — whether it's clinical documentation that writes itself to help reduce physician burnout by up to 70%, cloud-based medical imaging solutions that reduce unnecessary duplicate imaging scans by 40%, voice and behavioral biometrics capabilities that save organizations billions of dollars in fraud savings, or digital engagement solutions that result in an 85% increase in customer satisfaction.
Now, united by our shared purpose, Microsoft + Nuance will work together to build upon these latest AI, digital and cloud advancements to create solutions that transform how we – as global citizens – work, shop, bank, engage and receive care. With a steadfast focus on delivering world-class services, we will continue to focus on helping our customers solve their biggest challenges, accelerate their business outcomes and amplify their impact.
United by a bold vision and cutting-edge innovation
One of the driving forces that brought Microsoft + Nuance together is our bold vision and shared passion for creating assistive technologies that seamlessly integrate into the way people work, connect with one another and engage with the digital world around them. The combination of our longstanding partnership, the camaraderie and alignment between our teams, and the complementary nature of our cutting-edge portfolios, have made it abundantly clear that Microsoft + Nuance are better together.
We are uniting at a time when the industries we serve are facing the pressures of rapid digital transformation, and conversational AI, ambient intelligence and secure cloud connectivity are essential to solving their most pressing challenges. By combining Nuance's best-in-class conversational AI and ambient intelligence, which have been developed with years of industry knowledge and domain-specific expertise, with Microsoft's best-in-class cloud infrastructure renowned for its global scale, world-class security, powerful compute capabilities, and first-of-their-kind industry-specific clouds, we will be able to deliver even better solutions that help our customers achieve important outcomes and redefine success.
Solving industries' biggest challenges
Equally important is our commitment to listening to and deeply understanding our customers' specific needs and using their guidance and feedback to continually evolve our solutions and technologies to deliver the best experiences and outcomes. Now, more than ever, organizations around the world are facing unprecedented and evolving headwinds, ranging from intensified consumer expectations and security threats, to staffing shortages, to all-time high levels of clinician burnout in healthcare.  Together, and in partnership with our customers, Microsoft + Nuance will advance the state of the art to address these pressing issues and create seamless digital experiences that drive meaningful outcomes.
For instance, Microsoft's recent Work Trend Index Special Report found that many frontline healthcare workers are at an inflection point and are considering a job change, a leading indication that the industry could soon be facing critical experience gaps and staffing shortages. However, results also show that nearly half (48%) of respondents said that better tech on the job would significantly help ease the continuously mounting pressures. Microsoft + Nuance are uniquely positioned to address these issues. Our technologies are designed to improve patient experiences and support for clinicians with automated clinical documentation, greater flexibility in delivering care through telehealth applications, and advanced solutions designed for earlier detection and treatment of disease. Together, we will bridge silos of healthcare data and connect imaging stakeholders in an effort to facilitate the use of AI to inform precision diagnostics and therapeutics, increase physician and care team efficiency and lower overall healthcare costs.
Similarly, organizations in financial services, telecommunications, retail, healthcare and other industries must meet increasingly heightened expectations for effortless, personalized experiences while managing agent efficiency, attrition and cost controls. Uniting our companies allows us to bring together Nuance's contact center solutions and extensive expertise supporting leading enterprises with Microsoft technologies, such as Dynamics 365 Customer Service, and the scale and security of the Microsoft Cloud. The result will be a world-class platform, deep vertical intelligence and expertise, and an extensive partner ecosystem that are designed to positively transform the future of customer engagement and patient care. With this powerful combination, we will set a new vision for the modern customer engagement center, where we are able to enhance and automate all touchpoints across the customer journey, all while creating personalized experiences, improving agent productivity, safeguarding customer interactions, and optimizing agile operations to lower costs, increase revenue, facilitate customer acquisition and prevent fraud.
Accelerating business outcomes
Technology is only as good as the outcomes it delivers, and the true power of AI lies in its ability to accelerate meaningful results. Microsoft + Nuance will continue to deliver solutions with powerful, outcomes-focused AI and robust security that help shorten time to market, enhance accuracy, automate administrative tasks and amplify our customers' ability to help others. In fact, we've been successfully using this model since 2019, with our joint work to revolutionize the patient-physician experience with the Nuance Dragon Ambient eXperience (Nuance DAX). Health systems in the U.S. today are now leveraging Nuance DAX to dramatically reduce clinicians' administrative workloads, allowing them to spend more time with patients and less time on documentation, which can ultimately produce better patient and financial outcomes. But truly, this is just the beginning: We are committed to innovating new and cutting-edge AI solutions that help make healthcare more personal, affordable, effective and accessible, while also continuing to improve the patient and clinician experience.
"The Nuance DAX solution will truly transform how our physicians engage with patients. It addresses the industry-wide problem of physician burnout from administrative overload while increasing both physician and patient satisfaction. DAX is a true differentiator and one that we are certain will draw top talent to our organization."

– Dr. Snehal V. Gandhi, Medical Director, Division of Hospital Medicine, Department of Medicine and VP of Medical Informatics & Care Delivery Innovation, Cooper University Health Care
"I can now, for just about any visit, walk into an exam room, sit down, turn on DAX, and then literally sit back, look my patients in the eye and have a meaningful conversation."

– Lance Owens, MD, Chief Medical Information Officer, University of Michigan Health-West
We will also continue to help organizations in financial services, telco, retail, and other industries transform their consumer experiences and turn the digital contact center of the future into an everyday reality. By combining our state-of-the-art biometric security, virtual assistants, chatbots, intelligent omnichannel customer and agent engagement solutions, and industry-specific cloud platforms, we will help organizations stay on the forefront of customer experience — empowering consumers and brands alike, with intelligence from first contact to resolution, all while increasing revenue and customer satisfaction, and lowering costs.
Amplifying impact
Innovation is at the heart of how we operate and create positive outcomes for our customers. We know that it is critical that technology drives real-world outcomes and positively amplifies organizations' impact and their ability to improve the lives of others. We also know that innovative solutions become truly powerful when they scale and are accessible anytime, anywhere on a secure and compliant platform — and this is an area that we are very excited about as we look ahead. Microsoft + Nuance, along with our expansive network of partners, are a force multiplier and by working together we will be able to deliver even better outcomes for those we serve. Side-by-side, we will continue to relentlessly pursue technological advancements that produce lasting and scalable benefits for our customers, and we will invest in solutions and programs that enhance our partners' capabilities and strengths. But these aren't just words: we are already using input from our customers and partners to inform our strategic plans and to evaluate how our combined portfolio and technologies can help them amplify their impact even more.
An important aspect of helping our customers and partners amplify their impact is through reliable, trustworthy and personalized service and support. Rest assured we remain fiercely committed to maintaining continuity of service and the same customer touchpoints. Additionally, we will continue to uphold our high standards around data privacy, security and compliance. Both of our organizations have prided ourselves on these shared values and philosophies, and we will continue to uphold them now and in the future.
Our teams are the bedrock of our success
While the opportunity ahead of us is both exciting and expansive, none of this will be possible without bringing our incredibly talented, passionate, and dedicated employees together. Both Microsoft + Nuance believe in the power of culture as an accelerant for innovation. And when it comes to our vision, culture and values, we have significant alignment. We will continue to advance our shared purpose by thinking big, staying focused on our customers, striving for excellence in all we do and learning from one another and those we serve. By combining our knowledge and insights to expand the art of the possible, we can forever change and improve the way people interact with one another and the digital world around them.
Microsoft + Nuance share a bold, powerful and transformative vision: to empower every person and every organization on the planet to achieve more. Today, we begin the journey to bring that vision into reality, combining Nuance's best-in-class conversational AI and ambient intelligence with the scale and security of the Microsoft Cloud. Together, we will put advanced AI solutions into the hands of professionals everywhere to drive better decision-making, create more meaningful connections and help produce tangible, lasting outcomes.
Tags: AI, conversational AI
Customers share their stories on migrating to Dynamics 365
At some point, we've all experienced regret over not doing something. Opportunity passes us due to our over analysis, indecision, and uncertainty. Even though we've all done this, we rarely seek the advice of others, thinking our situation is somehow unique or different. This rationale is common among the on-premises organizations we speak to. They…
At some point, we've all experienced regret over not doing something.
Opportunity passes us due to our over analysis, indecision, and uncertainty. Even though we've all done this, we rarely seek the advice of others, thinking our situation is somehow unique or different.
This rationale is common among the on-premises organizations we speak to. They understand the benefits for moving to the cloud but chose to focus on all the reasons not to—aging infrastructure, manual processes, and siloed data notwithstanding.
Hearing how others are approaching this critical technological evolution can be invaluable. Not to mention relatable. Here are a few customer stories we've collected; perhaps you might recognize yourself or the circumstances?
Discover other Dynamics AX and Dynamics CRM customer stories to learn about migration best practices and the benefits others are seeing in the cloud.
A small company with sizeable goals
Sonee Sports, is a small 28-year-old, family-run retail chain in the Maldives. The company moved its Microsoft Dynamics AX to Dynamics 365 in the cloud to streamline its resource planning, point of sale, and relationship management activities. Sonee Sports has grown from a single desk in a hardware store to 10 stores across the Maldives however, this growth didn't come without challenges, particularly when it came to technology.
Maumoon Abdullah, Sonee Sports's co-founder, has long advocated for using technology to understand, retain, and engage new customers. "In 2016, we had a customer churn rate of 10 percent—not good. We knew that technology was key to keeping our business afloat," Abdullah said. However, their previous enterprise resource planning (ERP) took hours to generate reports, the data was inaccurate, so decision makers stopped using it. In time, Sonee Sports realized it had to move its entire business to the cloud.
With help from Mumbai-based CloudFronts, a Microsoft Partner Network partner, Sonee Sports upgraded to Microsoft Dynamics 365, deployed Microsoft Power BI for analytics, and rolled out a cloud-based e-commerce system. "We needed an all-around ERP system that was reliable, easy to use, and mobile-friendly and that offered a host of options for accessing information. Dynamics 365 Retail fits these criteria very well." Abdullah says. 
With this setup, Sonee Sports has cut its IT maintenance costs by 38 percent and improved customer retention by over 8 percent.
"With Dynamics 365, we finally have the data we need to understand our customers." Abdullah says. "The value of this is priceless."
Read more about Sonee Sport's migration to Dynamics 365.
A growing city with changing needs
It can be easy to forget that cities are a lot like corporations—they provide services to their "customers," often relying on technology to deliver the goods.
Bristol is a diverse city in southwest England, with more than 90 languages spoken and a population of just over 463,000. Bristol City Council is the unitary authority and is responsible for a wide range of services including taxation, waste management, education, etc. Like many struggling municipalities, Bristol City Council felt it could no longer rely on its IT system to meet day-to-day demands of the city. Its systems weren't agile or mobile-friendly and lacked a unified platform to support collaboration or leverage data insights.
"The council was historically, deeply dissatisfied with its IT systems and processes." says Simon Oliver, Director of Digital Transformation at Bristol City Council. 
Bristol City Council realized the only way forward was to modernize its Dynamics CRM 2016 instance to Dynamics 365, which would improve efficiency and collaboration. Moving, however, was a significant undertaking, involving migrating 54 workloads and orchestrating nearly 500 ecosystem partners, and staff.
Built on Microsoft Azure, with Microsoft Power Platform and Office 365, Bristol City Council deployed Dynamics 365 alongside toolsets to increase productivity. "Working with Microsoft has given us an opportunity to look at our entire approach to delivering IT services, to reshape our way of thinking and the culture of the IT department," explains Oliver. 
Read more about the Bristol City Council transformation.
An industry leader looking to drive purpose
Peet Limited, a leader in Australia's property industry, believes in helping people gain peace of mind through property ownership. And their commitment to IT innovation has enabled them to remain competitive through market disruptions.
As part of its ongoing mission to offer quality service, the company partnered with Microsoft to upgrade its IT systems and move critical line-of-business applications to the cloud. Justyn Bridge, IT Manager at Peet Limited, explained, "Microsoft 365 is a complete, intelligent solution…it empowers Peet employees to be creative and work together." Peet Limited had confidence in Microsoft because the organization was already using both Dynamics CRM and Dynamics AX, for its customer relationship management (CRM) and ERP, respectively.
Peet Limited designed its cloud strategy around security with the goal of end-to-end protection in mind; for them, security promoted value. Bridge explains that one of the best benefits of using Microsoft 365 is having a "single pane of glass" to view Peet Limited's security landscape. Using Microsoft's Advanced Threat Analytics, Peet Limited had a succinct, real-time view of an attack timeline with the ability to analyze and identify normal versus suspicious user or device behavior.
Considering the project, Bridge notes, "We sought better end-to-end protection, and Microsoft 365 gave us that. Our business has gained security in both protection and mindset."
Read more about Peet Limited's story.
When you're ready to migrate, Microsoft is here to help
We all have stories that define us. Organizations are no different. Whether you're looking to grow your footprint, improve services, or modernize your underlying technology, the Microsoft Cloud can meet your changing needs. While migrating to the cloud should be a business priority, the experiences above illustrate the importance of planning. When you're ready to migrate your on-premises solution to the cloud, Microsoft is here to support your journey.
Learn from the other Dynamics AX and Dynamics CRM migration stories in our library. Visit the Dynamics 365 Migration Community to access partner discovery resources and other assets to help you migrate with confidence.
Facebook: Our Largest Ever Climate Survey Can Inform Policies, Research and Campaigns Around the World
Today, Meta and researchers at Yale University are publishing the results of our biggest ever global survey about public views towards climate change. In March and April this year, a sample of more than 100,000 Facebook users from nearly 200 countries and territories were asked about their knowledge of, and attitudes and behavior towards, climate change…
Today, Meta and researchers at Yale University are publishing the results of our biggest ever global survey about public views towards climate change. In March and April this year, a sample of more than 100,000 Facebook users from nearly 200 countries and territories were asked about their knowledge of, and attitudes and behavior towards, climate change issues and what should be done to address them. The results paint a picture of deep concern around the world and the desire of a significant majority of people to see governments and others take meaningful action.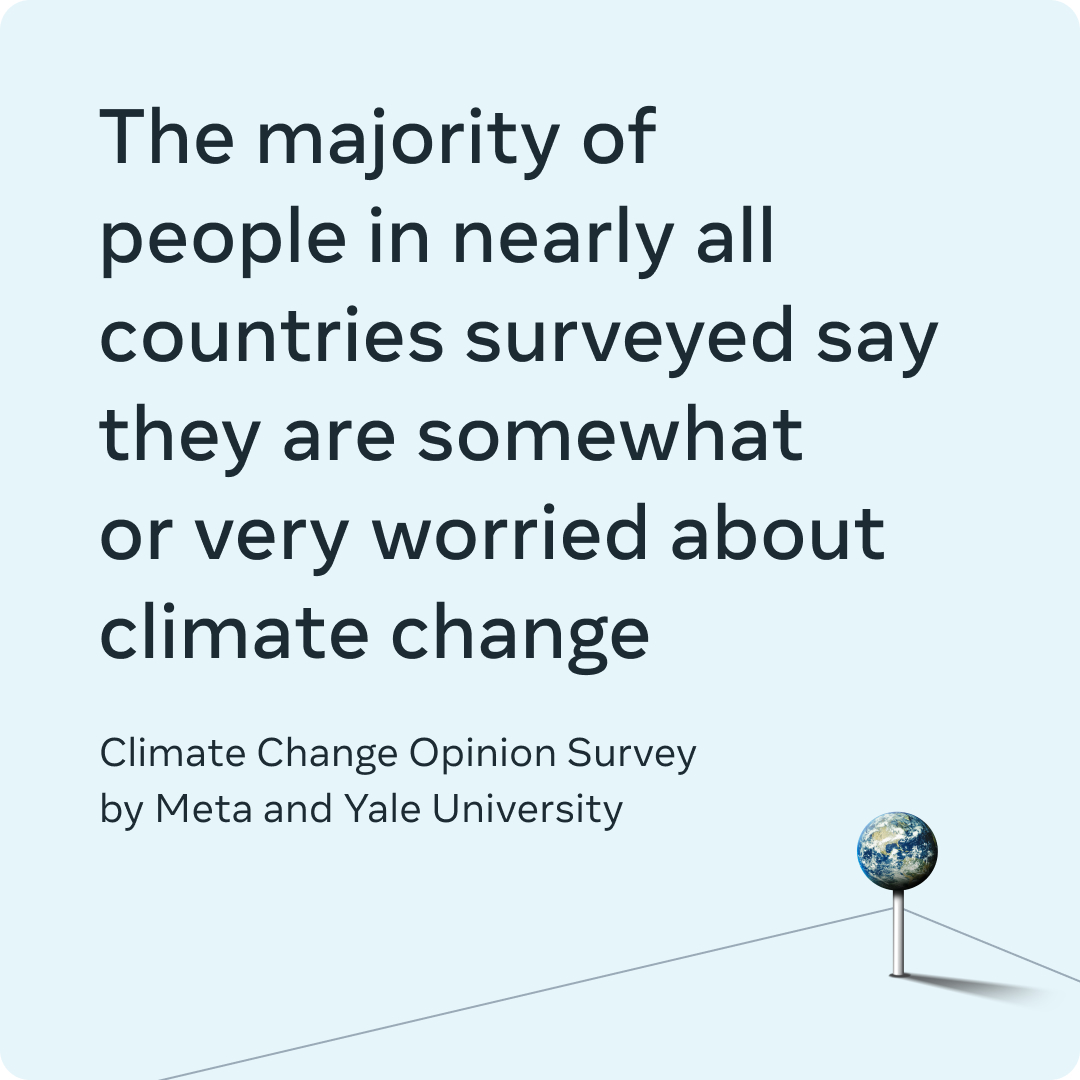 The survey is a collaboration between Meta and the Yale Program on Climate Change Communication, as part of Meta's Data for Good program. It is hoped its findings can be used to inform policy decisions and priorities for governments, especially in many countries where surveys of this sort have not taken place before. The findings should also be valuable for researchers around the world, as well as a resource to inform public information or awareness raising campaigns by activists and NGOs, and help journalists with nationally-relevant data. For example, the Social Progress Imperative is using data from this survey to develop a new Climate Perception Index, which will serve as a tool to better understand the societal implications of climate change and will provide insights for policy makers on where to focus most in order to deliver tangible societal outcomes to their citizens.
The survey found:
The majority of people in nearly all countries surveyed say they are somewhat or very worried about climate change, including more than 9 in 10 respondents in many countries in Central and South America. In almost every country, majorities saw climate change as a threat to their country or territory over the next two decades.
A majority in two-thirds of the countries and territories surveyed think climate change will harm future generations a great deal. 
Majorities in nearly all countries think climate change is caused at least partially by human activity. Europeans were most likely to correctly answer that climate change is caused by human activities, led by Spain (65%) and Sweden (61%).
In most countries, a majority say they don't hear about climate change at least once a week in their daily lives. Europeans are more likely to say they hear about climate change at least once a week compared to other regions.
Most people say their country should reduce pollution causing climate change, either on their own or if other countries also do so. However, people have different views on who is primarily responsible for reducing pollution — majorities in 43 countries said their government is responsible, 42 countries said individual people and 25 said businesses. 
People everywhere think climate change should be a high priority for their government. Majorities in most countries in North and South America say it should be a "very high" priority.
A majority in almost all areas surveyed think action to reduce climate change will either improve or have no negative impact on the economy.
People support using more renewable energy and less fossil fuels. About 9 in 10 people in Hungary, Portugal and Spain think their country should use somewhat or much more renewable energy.
The Data for Good program is an unprecedented collaboration between technology companies, the public sector, universities, nonprofits and others using privacy-protected datasets for social good, including disaster relief and recovery. Many of our humanitarian partners operate in some of the most challenging environments in the world. By sharing free tools that provide fast insights, Meta data has made decision-making on the ground easier, cheaper and more effective. In recent years, this collaboration has informed policies governing things like the delivery of vaccines and aid to Ukrainian refugees, and been utilized for environmental campaigns in the US, Germany, Belgium, Croatia and the UK.
Alongside the survey, Meta has also published its annual Sustainability Report, detailing the solid progress we're making in minimizing the environmental impact of our business, supply chain and wider community. This includes:
Setting an ambitious goal to be water positive by 2030, meaning we will restore more water than our global operations consume. In 2021, Meta helped restore more than 2.3 million cubic meters of water through investments in water restoration projects.  
Progress towards our goal of reaching net zero emissions across our value chain, and maintaining 100% renewable energy for our global operations.
Expanding our Climate Science Center to more than 150 countries.
Supporting key policies to advance sustainable policies and climate action, such as joining the European Climate Pact and participating in organizations advocating for clean energy policies in the United States.
Read the full climate opinion survey report and sustainability report.
Facebook: Uplifting Tribal Communities in India Through Digital Entrepreneurship
Inspired by the rich culture and talent represented by the tribal and indigenous communities of India, we are extending our collaboration with the Ministry of Tribal Affairs to launch the second phase of the Going Online As Leaders (GOAL) program. GOAL 2.0 will look to digitally upskill, connect and empower 10 lakh youth and women…
Inspired by the rich culture and talent represented by the tribal and indigenous communities of India, we are extending our collaboration with the Ministry of Tribal Affairs to launch the second phase of the Going Online As Leaders (GOAL) program. GOAL 2.0 will look to digitally upskill, connect and empower 10 lakh youth and women from the tribal communities of the country and will act as a bridge for the socially marginalized youth with a vast canvas of opportunities using technology that they otherwise may not have access to.
Through this program, the identified GOAL participants will have access to Meta Business Coach — a WhatsApp based learning bot — that will give the participants an opportunity to learn skills on how to build and grow their business using Facebook, Instagram and WhatsApp. To empower the participants to play an active role in the digital economy, the program will also include Facebook Live sessions in nine languages by master trainers on topics like Anti Scamming education, staying safe online, how to combat misinformation and being a good digital citizen. 
​Sh. Arjun Munda, Hon'ble Minister of Tribal Affairs launched the second phase of the GOAL program.
Speaking on the occasion, Sh. Munda said: 
"Honorable Prime Minister, Shri Narendra Modi has always spoken about bridging the digital divide. Digitally empowering India's tribal communities would contribute significantly to the socio-economic development of the country and an important step towards creating a flourishing community of tribal leaders. The first phase of GOAL has seen changing the lives of tribal youth through the digital mentorship program. In the second phase, we will reach out to 10 lakh women and youth entrepreneurs and will also create a platform for more than 50,000 self-help groups and 10 lakh families associated with TRIFED to take their products global." 
Sharing his views on the importance of digital empowerment for the tribal communities, Ajit Mohan, Vice President & Managing Director, Facebook India (Meta) said: 
"India's massive digital transformation can be complete when even the most vulnerable communities of our society are digitally empowered. We are deeply inspired by the stories of some of the Tribal leaders who benefitted from the first phase of GOAL that we kicked off in 2020. We recognize the wide canvas of opportunity that gets unlocked when these tribal communities have access to digital tools and technologies, and that is why we are excited to launch the next phase of this program. In collaboration with the Ministry of Tribal Affairs, GOAL 2.0 will upskill and empower 10 lakh women and youth across tribal communities to harness the full potential of digital platforms and tools."
Tribal population constitutes about 8.6% of the total population in India. Digitally empowering India's tribal communities could contribute significantly to the socioeconomic development of the country and an important step towards creating a flourishing community of tribal leaders.  The first phase of GOAL included inspiring, connecting and upskilling tribal youth from across the country. As a result of GOAL, 75% of the participants from the tribal community admitted to being able to better articulate their thoughts to words and saw an improvement in their interpersonal skills. About 69% were able to leverage digital commerce for increased reach and about 63% said that it helped them understand how to set up their business. 
The program is aimed at empowering youth and women from tribal and indigenous communities to harness the full potential of digital platforms and enhancing their leadership skills for driving community development. Along with digital inclusion, the program aims to actively contribute to the economy by continuing to support the most vulnerable communities in tribal districts with a focus on tribal youth and on businesses led by tribal women in rural areas.